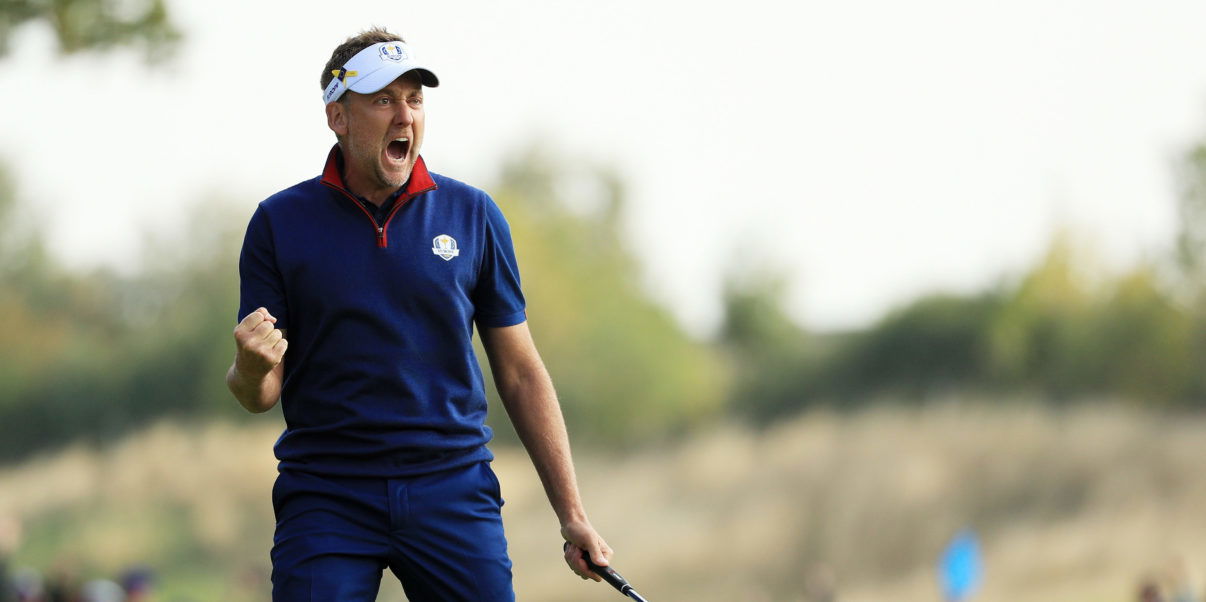 Ryder Cup 2018: Day One Round Up
Team Europe produced one of the most memorable afternoon's of Ryder Cup history to go into Day Two with a 5-3 lead, after trailing 3-1 after the first session.
An early start awaited the players and spectators this morning as Team Europe and Team USA headed to the first tee this morning for the start of the much-anticipated 2018 Ryder Cup.
The thaw of the early morning fairways was on show as nearly 7,000 people in the grandstand behind the first tee took to their positions in order to get the best possible view of some of the world's best golfers.
Coming into Paris, many struggled to separate the two teams with the majority of golfing pundits predicting a tight Europe victory due to their record on home turf. However, with this USA team being the best in recent times, you'd be silly to write them off.
Captain's Thomas Bjorn and Jim Furyk announced their pairings for the Friday morning fourball session on Thursday evening and there was little surprise to see only one of Europe's wildcard picks playing.
The fourballs went the way of the USA, who led 3-1 going into the foursomes. However, an amazing display by Team Europe saw them thrash their American opponents in all four games to give Europe a 5-3 lead heading into tomorrow's sessions.
Here's how each match played out: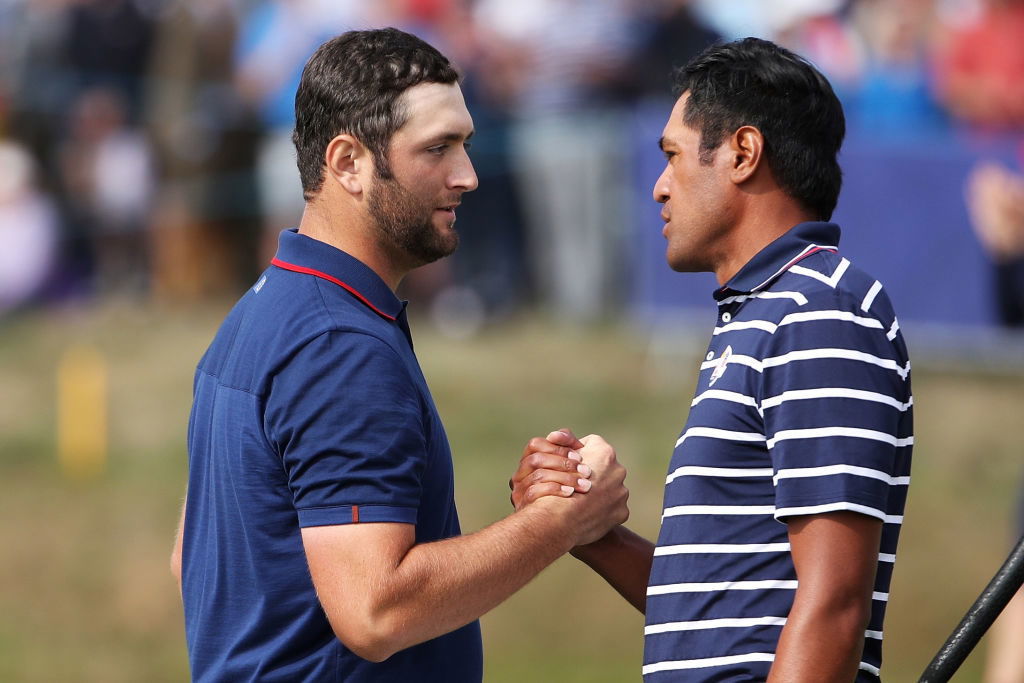 FOUR BALLS MATCH ONE: Justin Rose/Jon Rahm - Tony Finau/Brooks Koepka (1UP)
The world was watching as Tony Finau opened the curtains on the 2018 Ryder Cup. Justin Rose got Team Europe off to the best of starts with a brilliant approach shot to the first, after the perfect tee shot, sealed his birdie three sending them 1UP. It was honours even as Europe continued to lead by one for the next four holes, somewhat luckily, however, as Brooks Koepka failed to capitalise on a couple of chances to get USA back level. After a nervy start, Tony Finau announced himself on the biggest stage with a perfect chip in for eagle on the short par four sixth pushing the match back to all square. The regaining of the half was short lived however as Justin Rose took back the lead for Team Europe with just a par. A birdie two on the eighth sparked the first real celebration by Jon Rahm as he rolled in an impressive 15-foot putt and doubled Europe's lead. A half on the ninth hole meant that the European duo headed into the back nine 2UP and with all the momentum. Holes 11 and 12 sparked a chip in frenzy as Brooks Koepka halved Europe's lead with a birdie two, but was then countered by a Justin Rose birdie three on the next. The momentum swing continued to change as Brooks Koepka held a hugely impressive 25-foot putt for birdie on the 13th, which once again halved Europe's lead. The 14th and 15th holes continued to create a tense game for both teams with two halves, but, it was the 16th hole which really gave belief to Team USA. A lucky break for Tony Finau's tee shot on the par three as his ball bounced off a wooden block surrounding the side of the green and landed within three feet gave the Americans a great invitation back into the game. An opportunity that the rookie would gratefully accept and bring the game level for the first time in ten holes. The 17th hole was halved meaning that the point was there for the taking for either team. The Americans hit two flawless tee shots splitting the fairway. Justin Rose would follow alongside them but Jon Rahm would hit the rough, essentially putting him out of the hole. When Tony Finau and Brooks Koepka would find the centre of the green with their approach shots, the pressure was on Justin Rose's shoulders but he failed to deliver as he found the water. A two-putt for either Finau or Koepka would be good enough to complete the turnaround and that is what they would go on and successfully do.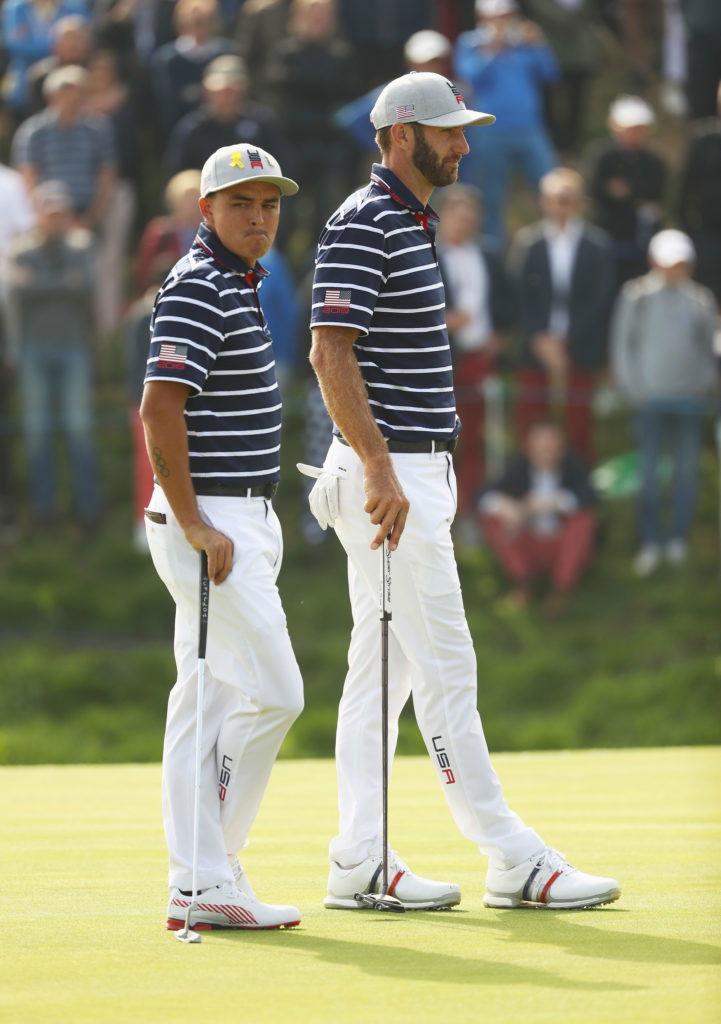 FOUR BALLS MATCH TWO: Rory McIlroy/Thorbjorn Olesen – Dustin Johnson/Rickie Fowler (4&2)
It is always interesting to see how rookies deal with the pressure and nerves of the opening tee shot in a Ryder Cup. It was clear to see that Thorbjorn Olesen was struggling with his nerves and it was further evident as his tee shot ended up in the water. Dustin Johnson would go on to gift a half to Team Europe as he missed a straight forward three-foot putt for birdie. It was honours even for the next seven holes but Olesen missed a couple of golden opportunities to edge Europe in front. It was, however, the Dane that eventually sent Europe ahead on the eighth hole with a par three. That was the best it would get for the pair though as they struggled to find any sort of rhythm and USA capitalised on European errors allowing them to draw back level. They would then go on to win three of the next four holes, all with birdie threes. Two halves would follow, but, in truth, Europe never looked like threatening and they would then concede the match to Team USA on the par three 16th hole as Dustin Johnson would put his tee shot close enough to the hole. Rory McIlroy would be incredibly disappointed with his display as he became the only player not to register a single birdie throughout the whole round.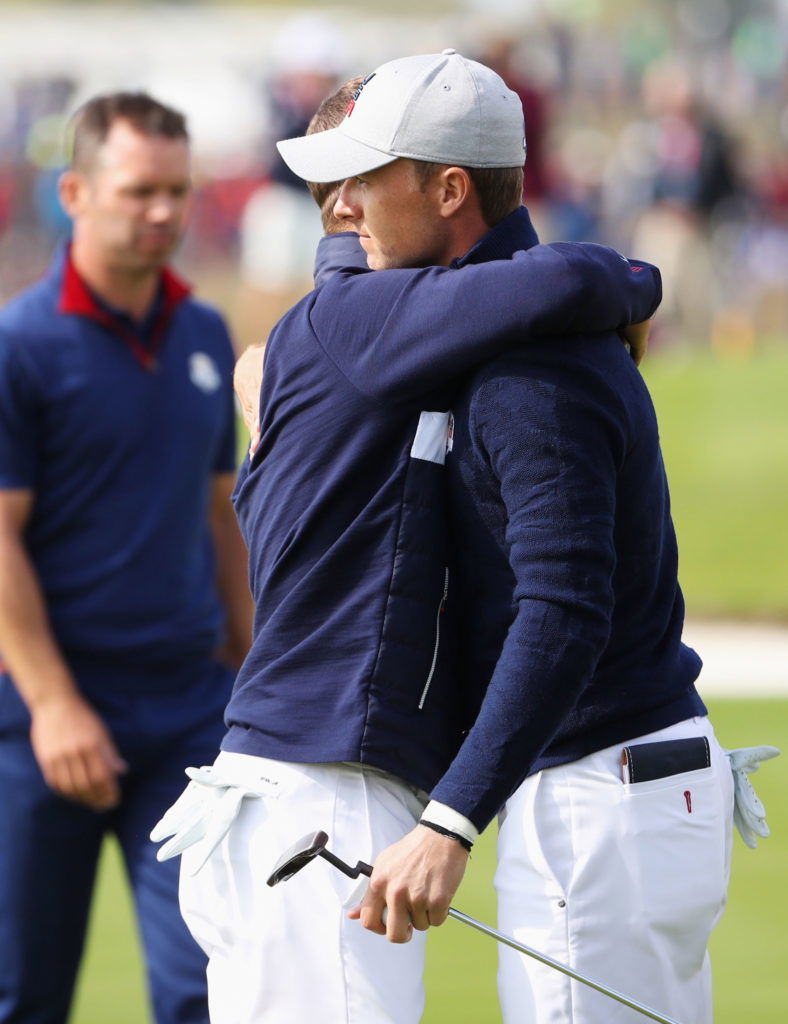 FOUR BALLS MATCH THREE: Paul Casey/Tyrell Hatton – Justin Thomas/Jordan Spieth (1UP)
Prior to this match, Jim Furyk would have highlighted this game as a must-win for Team USA. Playing against a rookie and someone that hadn't featured in the Ryder Cup for ten years must have given Justin Thomas and Jordan Spieth some inner confidence that they could get a point on the board for the Americans. It was the perfect start for them as Spieth opened the day with a birdie with Paul Casey finding the water with his approach shot and Tyrell Hatton only managing a par. Jordan Spieth ended last season T50 for putting average but he really returned back to his best with four one-putts in a row to begin his round. European rookie, Hatton, really struggled to make any sort of impact and after three consecutive halves, Spieth would birdie hole five and chip in to birdie the seventh hole to extend their lead to 3UP. Not much changed between holes eight and ten but it was the 11th hole that proved a catalyst for the European duo to begin their charge. A wonderful iron shot on hole 11 by Paul Casey would set up a birdie opportunity which he would take to reduce the deficit to 2UP. It wouldn't stop there, however, as a pinpoint approach shot to five feet on the 12thhole would make it two birdies in two consecutive holes. Tyrell Hatton then joined in on the act on the 13th hole with an equally impressive approach shot to three feet. A tap-in would mean that Europe were level in this match for the first time since the first tee. The pair were unable to make it four out of four holes and Justin Thomas would go on to birdie the 15th hole. A half on the final hole for Team USA meant that as brave and resilient the English duo were; they were unable to complete a dream comeback.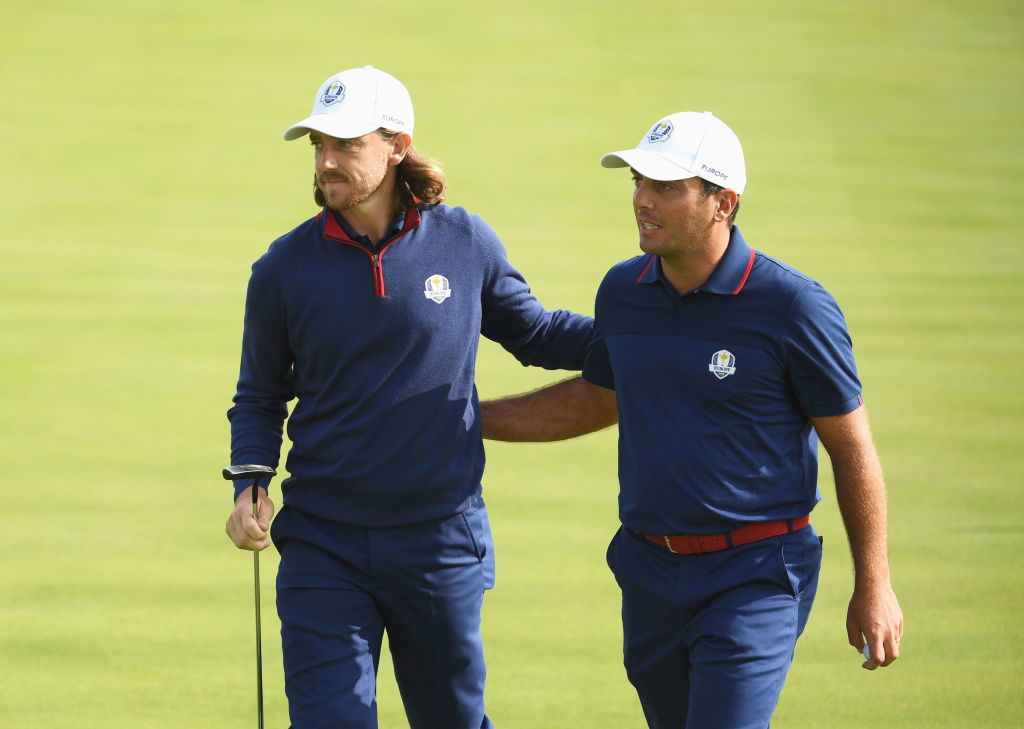 FOUR BALLS MATCH FOUR: (3&1) Francesco Molinari/Tommy Fleetwood – Tiger Woods/Patrick Reed
With seven birdies between them, this dynamic duo was the only positive for Thomas Bjorn to take into the afternoon session. Francesco Molinari followed up a precise approach shot on the first to send the Europeans off to a good start and win the first hole. Tiger Woods would react to the disappointment of the first hole though, with a birdie two on the second after a risky but rewarding tee shot. Tommy Fleetwood would go on to birdie the fourth hole and regain the lead for Team Europe.The ever-reliable Patrick Reed would swing the momentum in their favour with a birdie three on hole seven. This would then be followed by two birdies in the next three holes, giving USA a huge advantage. It would take two massively important birdie putts straight after on holes 11 and 12 by The Open champion, Francesco Molinari, to crawl them back into all square. European rookie, Tommy Fleetwood, had been slightly quiet up to this point but it was on the 15th hole when his partner needed him the most and he stepped up. Taking advantage of two poor approach shots from the Americans, the Englishman would sink a putt from the fringe of the 15th green to give them the lead for the first time since the seventh hole. He would then take centre stage by following up the birdie on 15 with another on 16 as he drained a massive putt on the daunting par three, leaving them 2UP with two to play. The hugely impressive victory was rounded off as Molinari dropped a 15-foot putt to give Europe their only point of the fourballs.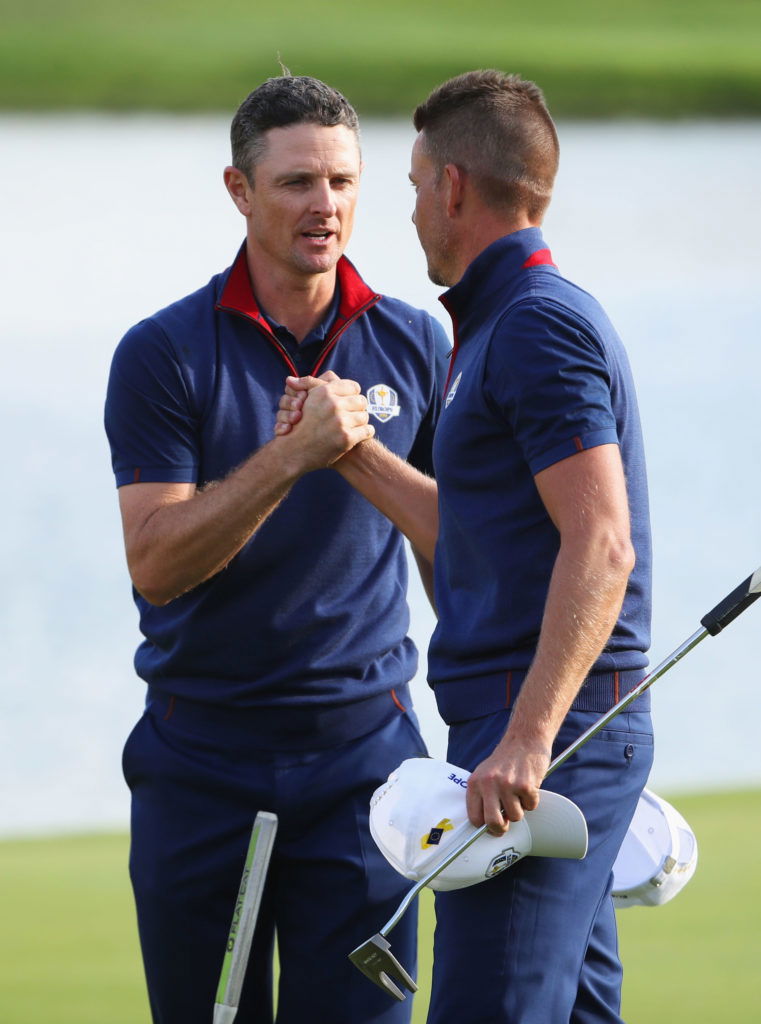 FOURSOMES MATCH ONE: (3&2) Henrik Stenson/Justin Rose - Dustin Johnson/Rickie Fowler
Despite a world-class performance from Justin Rose in the fourballs, he would have been incredibly disappointed not to have been rewarded for it with a point. This would have given him some extra motivation ahead of the afternoon foursomes match with wildcard, Henrik Stenson. The pair started steadily with four halves in their first four holes. It was the fifth hole where they really began to bring the game to the Americans. Pars on holes five and seven, coupled with a birdie in between on hole six gave them a 3UP lead and with Dustin Johnson and Rickie Fowler playing surprisingly disappointing, everyone associated with Team Europe began to feel confident that they would get the job done. Pars on holes 10 and 11 extended their lead to 5UP and this match looked like it was heading in only one direction. Team USA gave a glimmer of hope to captain, Jim Furyk, after winning the 12th and 13th hole reduced the lead to 3UP. Momentum seemed to be drained for the American pair though and three halves on the home stretch between holes 14 and 16 gave the European pair a 3&2 victory.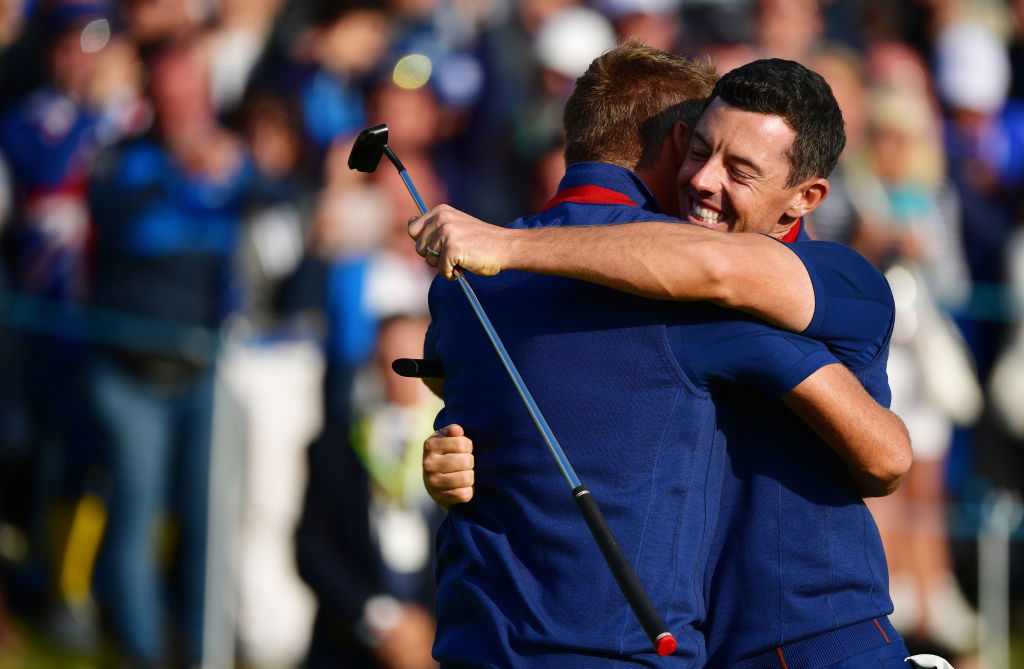 FOURSOMES MATCH TWO: (4&2) Ian Poulter/Rory McIlroy - Bubba Watson/Webb Simpson
Rory McIlroy needed a positive afternoon after not even making a birdie in the morning but playing with Ian Poulter, who he played with in 2014 at Gleneagles, would have instilled confidence into him. A tricky match was ahead of the British pair though due to neither Bubba Watson nor Webb Simpson having played in the fourball session. Team Europe got off to the worst possible start with Ian Poulter finding the water from his tee shot on the first, giving the Americans the upper hand after one hole. A birdie would follow on the par five third for Team USA as they went 2UP. Rory McIlroy and Ian Poulter took time to get going but when they did, it was at an absolutely crucial stage as the Northern Irishman would get his first birdie of the Ryder Cup on hole six to half the deficit to 1UP. They would then win the next three holes to jump to 2UP in their favour and with momentum on their side, wins on holes 12 and 13 followed by halves on the 14th and 15th and a victory on hole 16 gave them a 4&2 win.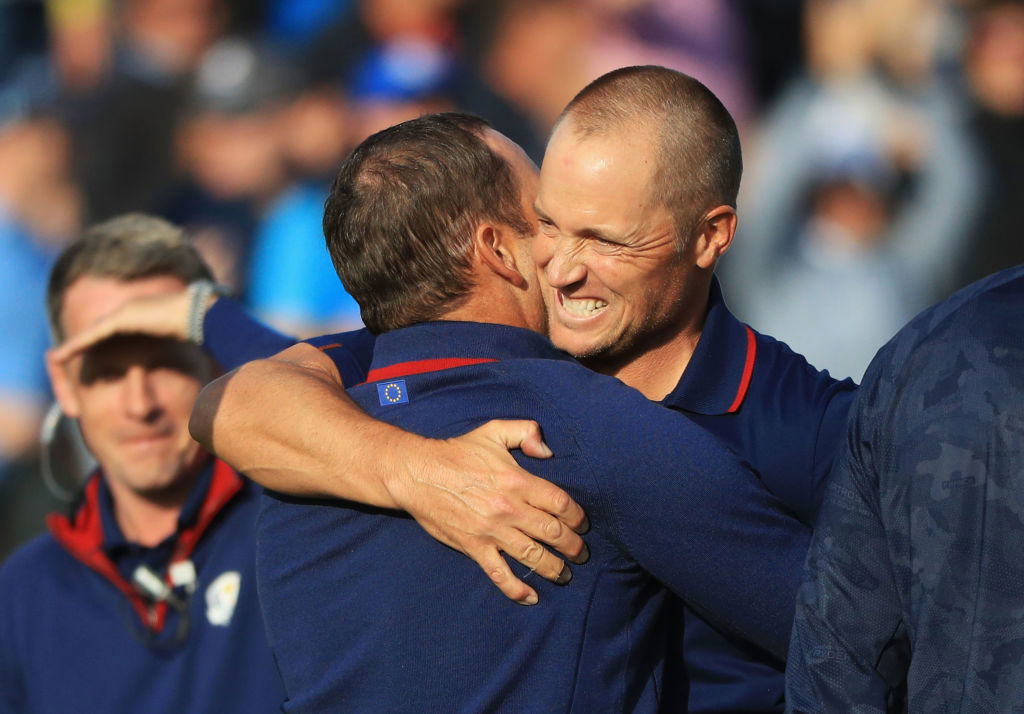 FOURSOMES MATCH THREE: (5&4) Sergio Garcia/Alex Noren - Phil Mickelson/Bryson DeChambeau
A lot of the build-up to this Ryder Cup surrounded each of the captain's wildcard options, most notably Sergio Garcia and Phil Mickelson. Therefore, it was interesting to see them paired against each other. Mickelson's tee shots have been his Achilles heel for the last few years and today was no different as he often left the ball out of position for partner Bryson DeChambeau. The Europeans took advantage of some poor play by Team USA, flying into a 2UP lead after three holes. Separated by a half on hole four, Sergio Garcia and rookie, Alex Noren, won five holes on the bounce and cruised to a 7UP lead after nine holes. They perhaps showed some complacency losing three out of four holes between the 10th hole and the 13th. However, a half on hole 14 concluded things and gave the Europeans a 5&4 victory.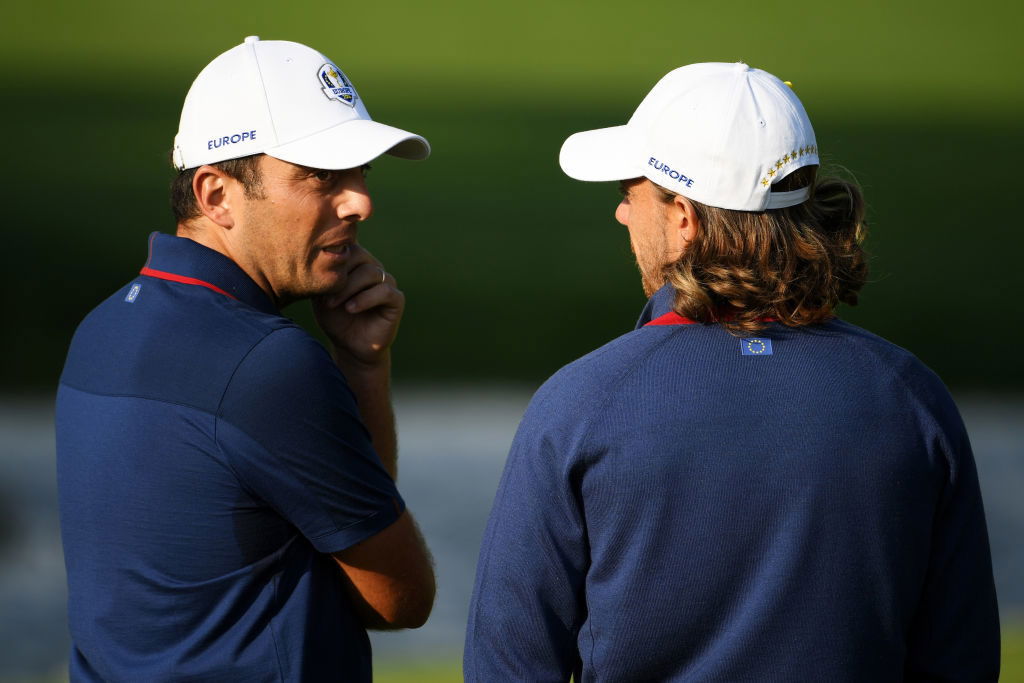 FOURSOMES MATCH FOUR: (5&4) Francesco Molinari/Tommy Fleetwood - Justin Thomas/Jordan Spieth
The European pair would have taken incredible confidence going into this afternoon session after the morning victory against Patrick Reed and Tiger Woods. A tight game on paper, no one would have expected a result like this given Justin Thomas and Jordan Spieth's world-class ability. However, being consistently out of position coupled with the putter going cold on Spieth gave Francesco Molinari and Tommy Fleetwood chances to take advantage. The match began quietly with both pairs having to be patient and the score was AS after two holes. Team Europe were first to make their move and led 3UP after seven holes after two birdies and a par. The USA managed to reduce the lead to 2UP after a par three on the eighth hole. However, the European pair were quick to bounce back winning holes nine and ten. A birdie two on hole 11 for the Americans gave them some more confidence but in the end, it counted for nothing as Molinari and Fleetwood won holes 13 and 14 to secure a memorable 5&4 victory.
---