Ryder Cup 2018: Final Day Round Up
Europe have regained the Ryder Cup after a 7 1/2 – 4 1/2 victory on the final day to complete a comprehensive 17 1/2 – 10 1/2 win after a hugely compelling singles session.
After the first couple of pairings began to close their rounds, Thomas Bjorn would have been sweating over the rest of his team when he looked at the leaderboard.
However, resilience has been one of Europe's most notable strengths this weekend and a huge half point from Paul Casey on the final point would have given Team Europe some motivation.
There were surprise defeats for Tommy Fleetwood and Justin Rose but all four of the captain's wildcard picks repaid his faith and none lost their respective single matches.
Huge relief was clear to see on Thomas Bjorn's face after the early scare but ultimately, he got every decision spot on.
In comparison, Jim Furyk will be extremely disappointed that his faith in, most notably, Phil Mickelson, failed to pay off as he slumped to two losses in as many games.
Equally, big-game players such as Tiger Woods, Patrick Reed and Rickie Fowler and only managed two points between them so they will not be immune from criticism themselves.
Here's how each match played out:
Match One: Rory McIlroy - Justin Thomas (1UP)
As expected, Rory McIlroy would lead Team Europe as he usually does in the hope of putting some early blue on the board.
The Northern Irishman got off to the worst possible start losing the first hole to a Justin Thomas birdie three.
However, he would go on to win the next three holes in a row to take a 2UP lead on the fifth tee.
The pair halved the next three holes until the eighth hole where Justin Thomas would cut the lead in half with a birdie two.
The American would then get the game back to AS on the tenth as he birdied the par-four.
A par would be enough on hole 13 for McIlroy to regain the lead but it would be quickly followed by a birdie four for Thomas on the 14th hole.
The pair would half the next three holes due to some Justin Thomas missed putts but a poor drive from Rory McIlroy off the 18th tee would leave him plugged in the right-hand bunker.
His attempt to get out of the bunker would leave him still inside it where he would then end up in the water as he tried to make the green.
The European would then concede the hole to get America's first point of the day.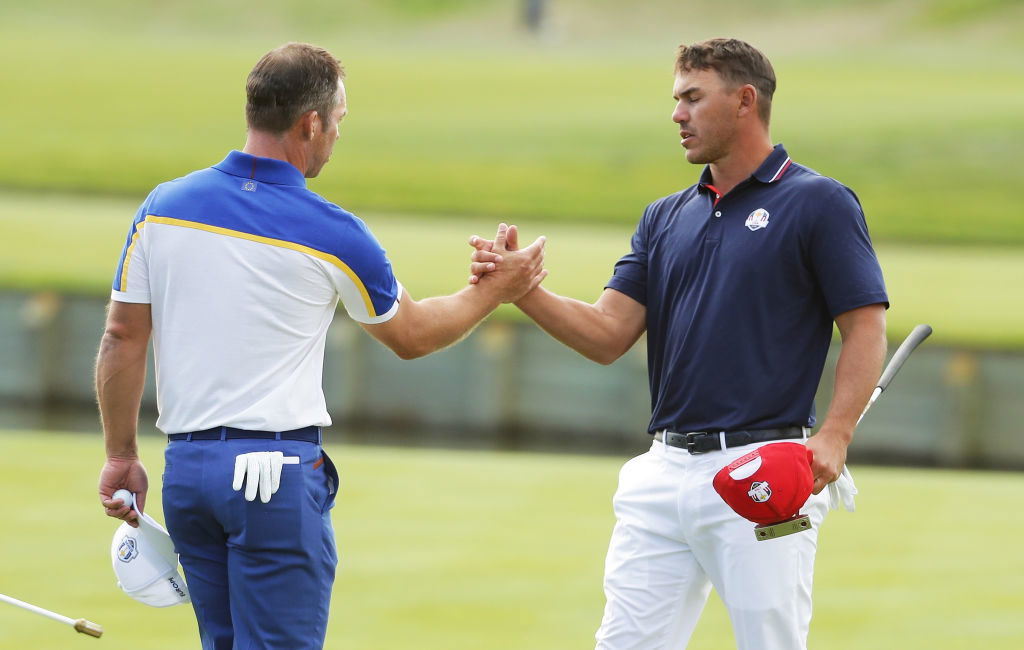 Match Two: Paul Casey - HALVED - Brooks Koepka
An error-some start by Paul Casey gave the American an early lead but he immediately fought back to birdie the next and win the hole.
Brooks Koepka would regain the lead on the fifth hole with a birdie three but two Paul Casey birdies on the ninth and tenth holes would give Europe the lead for the first time in the match.
Koepka refused to give up however and also birdied two in a row on holes 14 and 15 to sway the momentum his way.
A huge birdie putt for the European on the 17th would bring the match back to AS.
A poor approach shot from Brooks Koepka on the final hole would give Casey a chance to get a point out of nowhere for Europe. But, a brilliant up and down for the American meant that the match was halved.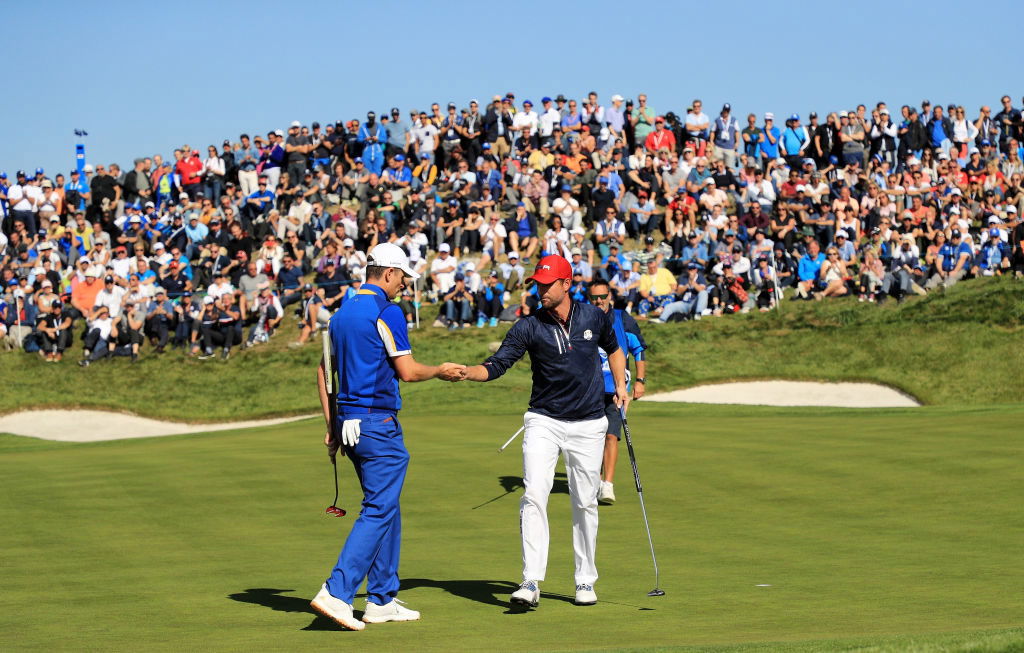 Match Three: Justin Rose - Webb Simpson (3&2)
On paper, many would assume that this would be a routine victory for the FedEx Champion, Justin Rose, but it was anything as the Englishman didn't lead once in the game and slumped to his second loss of this Ryder Cup.
Webb Simpson's incredible putting was there on show from the early stages as he birdied two out of the first three holes to take a quick 2UP lead.
Rose made his first birdie of the day on the fifth hole to half the American's lead.
Although Simpson would quickly fight back with another two birdies on the trot on holes seven and eight, extending his lead to 3UP.
Thomas Bjorn would receive a glimmer of hope with a Europe birdie on the 13th hole but Webb Simpson's birdie on hole 15 ended the match as a contest and a half on the par-three 16th gave the American's another point.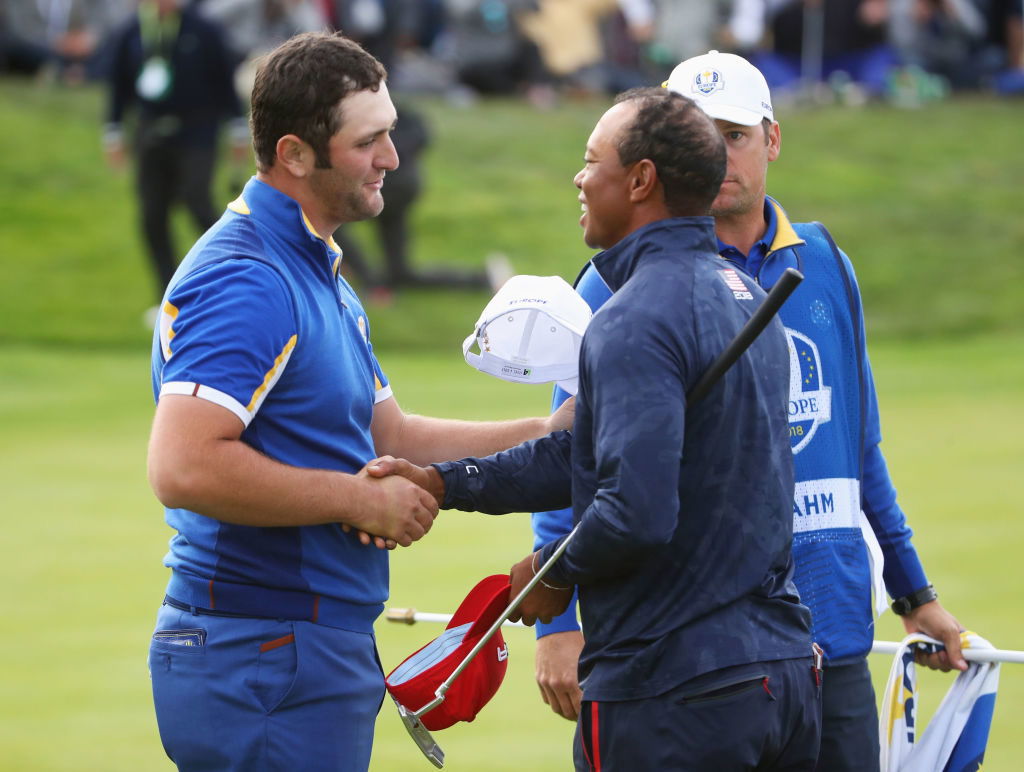 Match Four: (2&1) Jon Rahm - Tiger Woods
A fast start for Jon Rahm on the first hole would give Europe an early 1UP lead after a birdie three.
It would be honours even until the seventh hole where the Spaniard would double his lead with a par four.
The pair would find themselves AS on the 13th tee as Tiger Woods eagled the ninth hole and birdied hole 12.
However, a mistake from Woods on the par-four 13th would cost him as Rahm regained the lead with a par.
Another par for the European would follow on the next, extending his lead to 2UP.
A substandard three-putt from Jon Rahm on the 16th would give Tiger Woods a chance but Rahm would strike back immediately, sinking a ten-footer for birdie and giving Team Europe another point.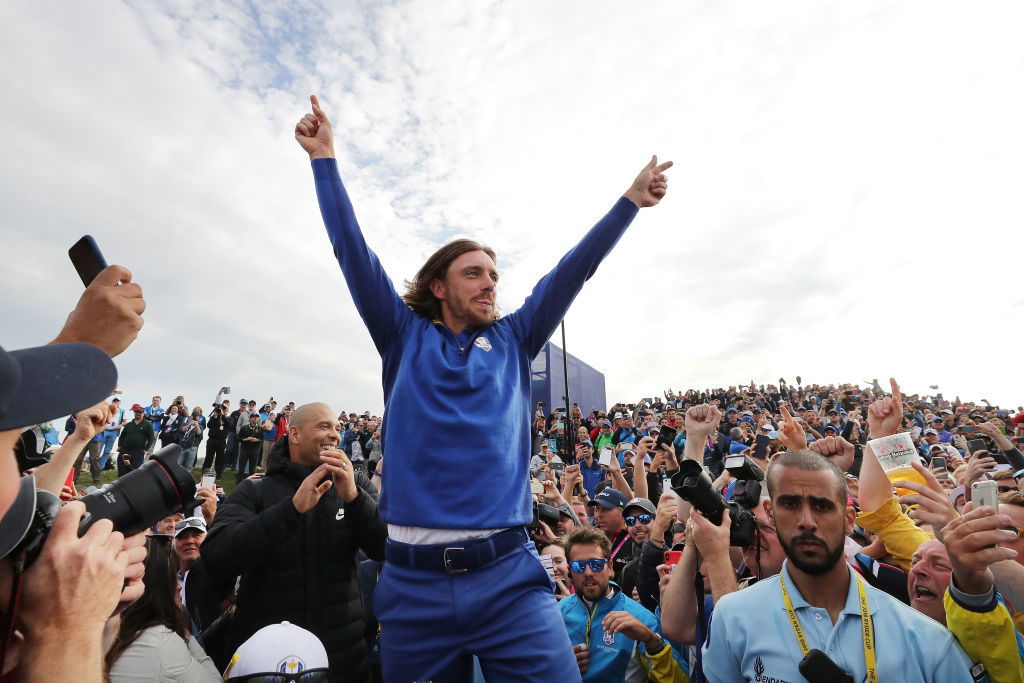 Match Five: Tommy Fleetwood - Tony Finau (6&4)
Tommy Fleetwood's flawless Ryder Cup ended in disappointing style as he fell victim to the resurgent rookie, Tony Finau, who played his best golf of this tournament by far.
Remarkably, there were just two halves in the whole match.
Team USA started very impressively winning the first two holes but Fleetwood would reply with two birdies on holes  three and four to get the game back to AS.
Tony Finau would play some inspirational stuff, coupled with some poor missed putts by the Englishman, to win the next five holes in a row.
Fleetwood would give himself a chance birdieing the tenth hole but that would quickly be followed by a Finau birdie on the 11th.
Another birdie on hole 14 after two halves in a row would end Fleetwood's 100% record and give Finau his first ever point in the Ryder Cup.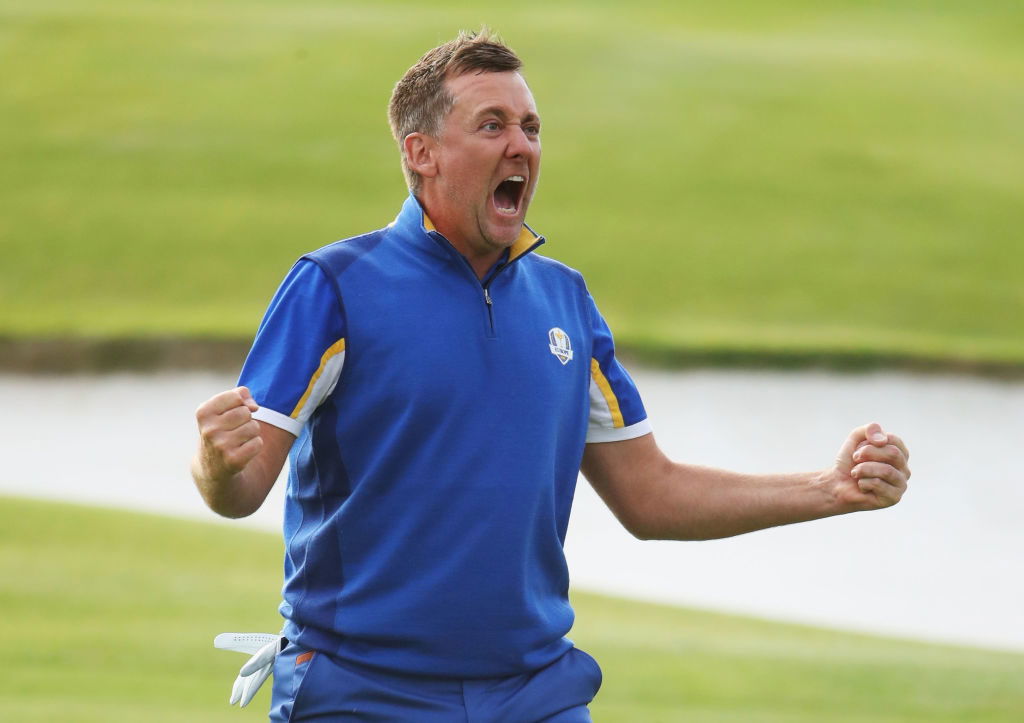 Match Six: (2UP) Ian Poulter - Dustin Johnson
The 'postman' delivered yet another point for Team Europe at a massively crucial time.
Ian Poulter would take a 2UP lead after four holes with a par on the second hole and a birdie on the fourth.
However, the American would quickly respond with a birdie and a par of his own on the next two holes, bringing the match back to AS.
Europe regained the lead on the seventh hole with a par four and would take a 1UP lead heading into the back nine.
Dustin Johnson started the back nine on fire with two birdies on hole 10 and 11 to take the lead for the very first time.
But, as always, Ian Poulter delivered when the team needed him the most, winning holes 13, 14 and 15.
Two lengthy putts from Dustin Johnson on holes 16 and 17, reduced the lead to 1UP and gave them a bit of hope going down the last.
It was too little too late for the American though, as he conceded the final hole and Europe were one point away from regaining the Ryder Cup.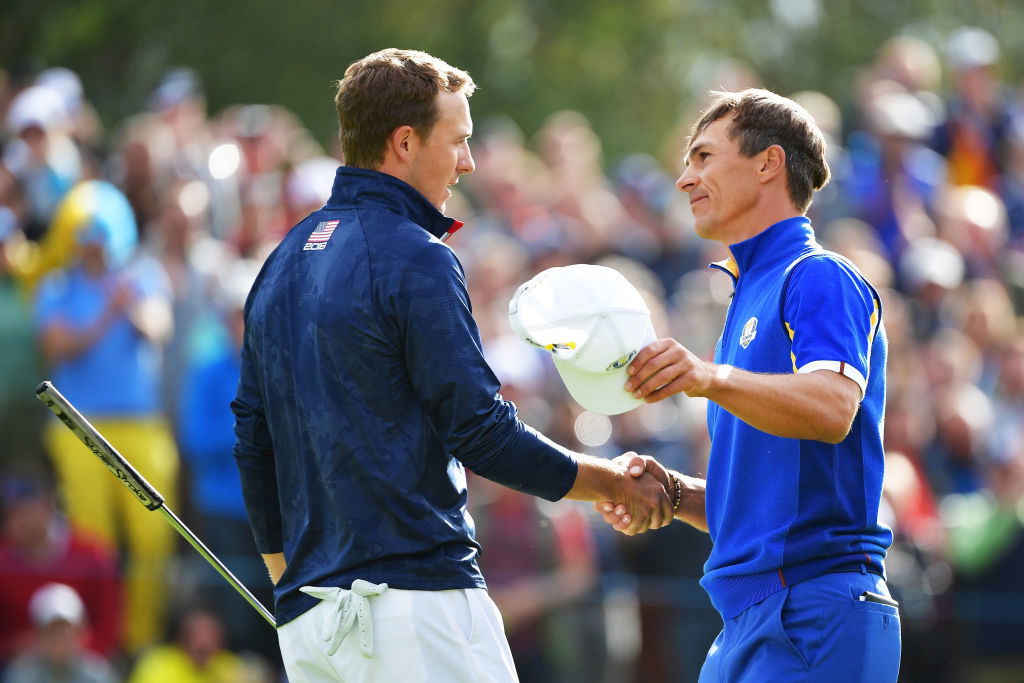 Match Seven: (5&4) Thorbjorn Olesen - Jordan Spieth
Coming into this tie, Jordan Spieth was hot favourite after his solid display this Ryder Cup. However, the Dane had something to say about that as he stormed to a 5&4 unexpected thrashing of the American.
It was first blow to Team Europe as Thorbjorn Olesen rolled in a birdie putt on the par-three second. However, Spieth quickly countered that with a birdie four on the next bringing the match back to AS.
Olesen would go on to win the next three holes after some Spieth mistakes and race to a 3UP lead after six holes.
The European would follow this up with birdies on the eighth and ninth holes to extend his lead to 5UP.
A par four on the tenth hole would give Jim Furyk some belief but three halves between holes 11-13 and another birdie for Olesen would seal another point for Team Europe.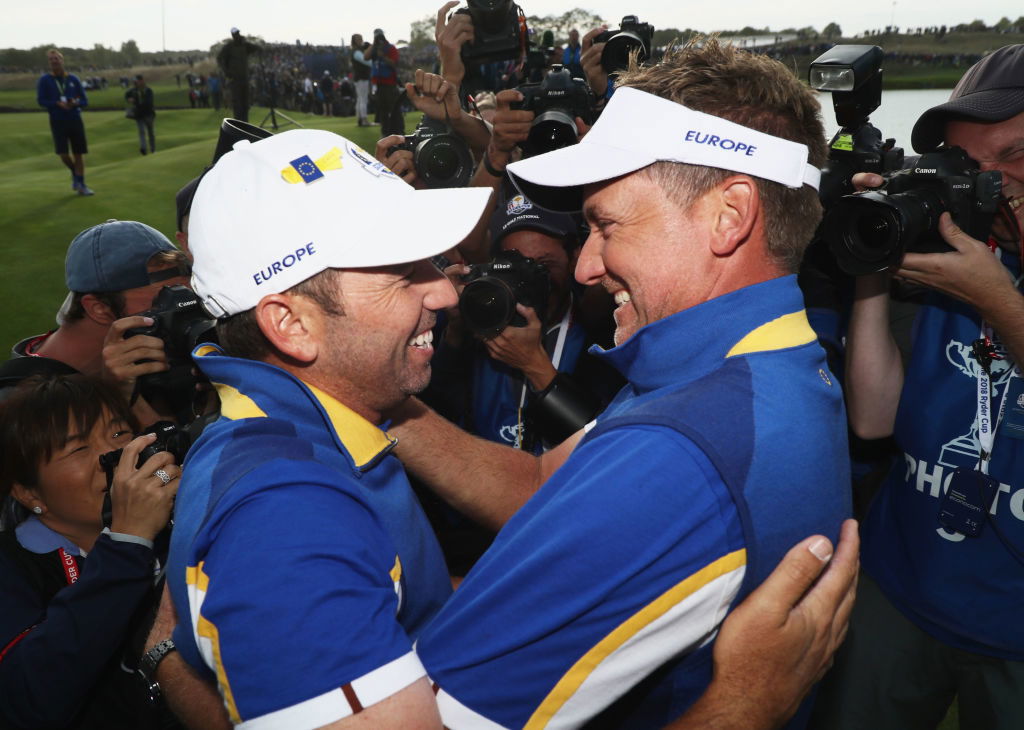 Match Eight: (2&1) Sergio Garcia - Rickie Fowler
Much talk coming into the Ryder Cup was about the potential 'poor' choice from Thomas Bjorn to pick Sergio Garcia in his team. But, three points won this weekend meant that he became the all-time European points scorer and his emotional was clear to see.
The Spaniard led 2UP after the first two holes thanks to two pars but a Rickie Fowler birdie on the next would reduce the lead to just 1UP.
It looked like the lead would stay like heading into the back nine but a par five on the ninth hole regained Europe's 2UP lead.
A birdie three by Fowler on the 13th once again reduced the lead but Garcia struck back on the 14th to swing the momentum Europe's way once again.
After a mistake from the Spaniard on the next hole, Fowler would win it with a bogey five.
Focus may have been lost for both players on the 16th hole as Europe's victory was confirmed but they continued to fight and a half on the 17th established Sergio Garcia as Europe's all-time top scorer in Ryder Cup history.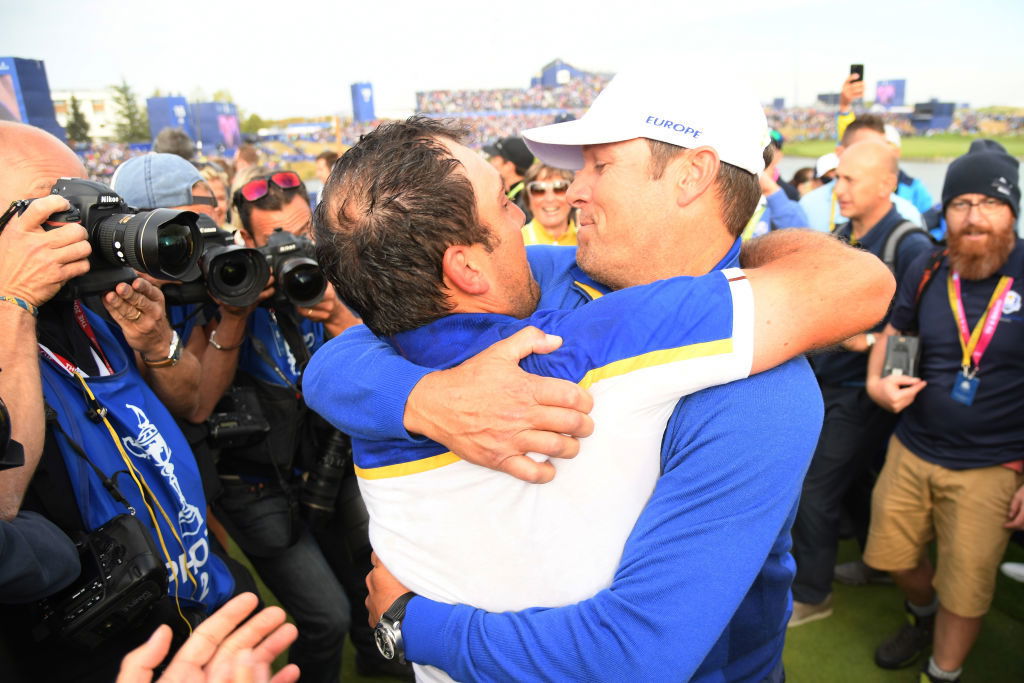 Match Nine: (4&2) Francesco Molinari - Phil Mickelson
Jim Furyk's wildcard pick of Phil Mickelson didn't quite work out and this defeat to Francesco Molinari sealed the Ryder Cup for Europe on home soil once again.
Molinari continued his fine form as he stormed to a 3UP lead after six holes.
The American would get one back with a birdie three on the next but it wouldn't mean much as he would bogey the seventh hole and the 3UP lead would be resumed.
Holes nine and eleven would give Mickelson a chance going into the final seven holes but a Molinari par on 12 and birdies on holes 14 and 16 would cap off an unbelievable year for the Italian.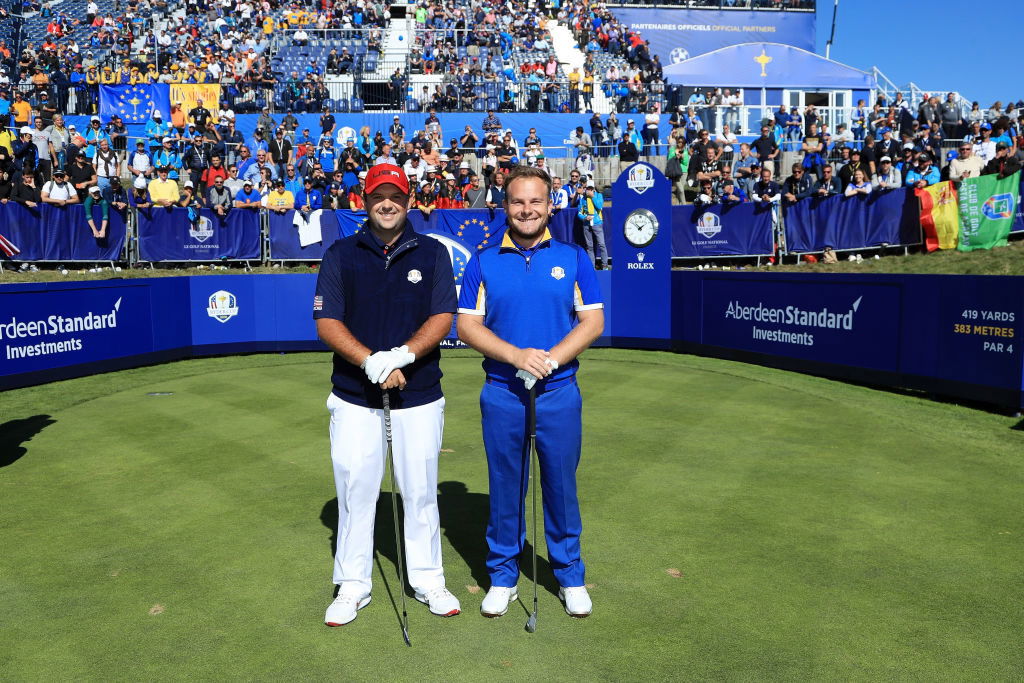 Match Ten: Tyrell Hatton - Patrick Reed (3&2)
A frustrating afternoon for Englishman, Tyrell Hatton, ended in his second defeat during his maiden Ryder Cup.
The match was AS after six holes as both players made four pars and two birdies.
Patrick Reed won holes seven and nine to take a 2UP lead going into the back nine.
A birdie two for the American would extend this to 3UP but Hatton fought back to reduce the lead to just 2UP after he birdied hole 13.
Two pars on holes 14 and 15 followed by a birdie two on hole 16 gave Patrick Reed his first point at this year's Ryder Cup.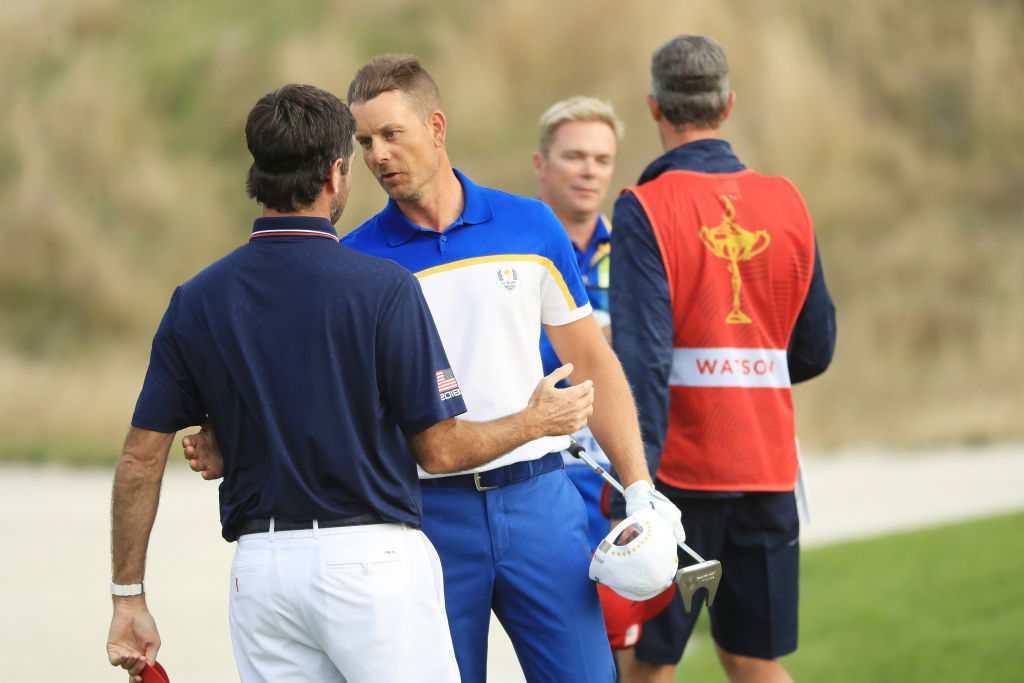 Match Eleven: (5&4) Henrik Stenson - Bubba Watson
A quiet two holes for both players was followed by three birdies in a row for the Swede, Henrik Stenson.
A match that was covered in blue throughout, Bubba Watson's only winning hole came on the next with a birdie three.
This, however, was quickly followed by a birdie three for the European and the score returned to 3UP.
Stenson won holes 11 and 12 to extend his lead to 5UP. And, two halves on the next two sealed a comfortable win for Team Europe.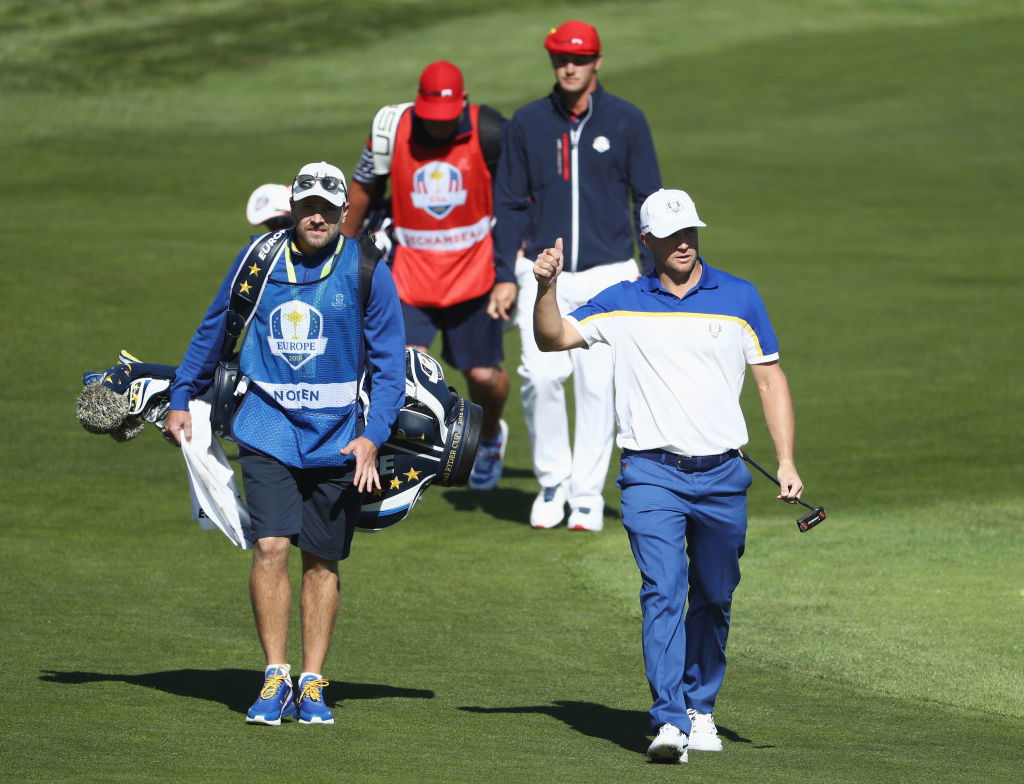 Match Twelve: (1UP) Alex Noren - Bryson DeChambeau
This could have potentially been a very important game today if things failed to go the way Europe had expected, luckily for Thomas Bjorn, it had no relevance whatsoever.
Bryson DeChambeau took an early 2UP lead after birdies on holes three and five.
However, Alex Noren impressively got the game back to AS, heading into the back nine after birdie on seven and nine.
Halves would follow for the pair until hole 14 where Noren would take the lead for the first time in the match after an eagle three.
It was after this point where difficulty kicked in for the two because of Team Europe's confirmed Ryder Cup victory and there was minimal momentum on either side.
Alex Noren topped off this wonderful weekend by holing a 30-foot putt to beat Bryson DeChambeau in the last moment, creating an unforgettable memory for the Swede and his team.
---