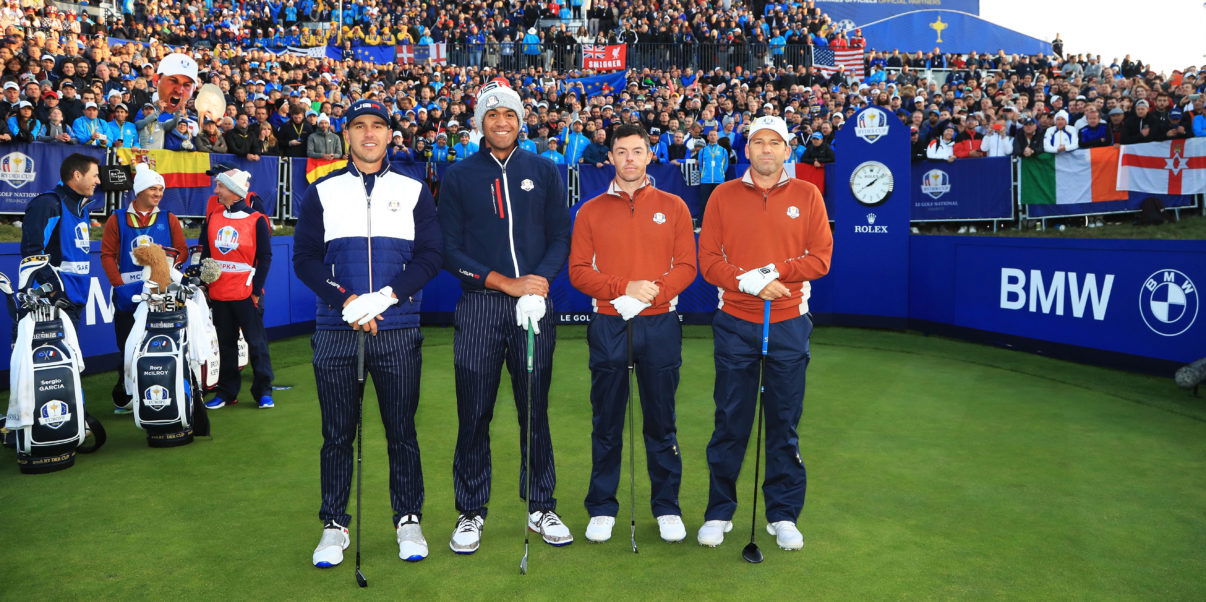 Ryder Cup 2018: Day Two Round Up
After the opening day's incredible scenes in Paris, the overriding message from Europe's captain Thomas Bjorn would be to not get complacent and remember how resilient the USA team is.
An early morning awaited the players again and from a European perspective, Thomas Bjorn gave Sergio Garcia an opportunity to gather some momentum and confidence going into the afternoon's session by partnering him with Rory McIlroy, a partnership that blossomed. Team Europe's captain also showed faith in Tyrell Hatton and Paul Casey after their disappointing day yesterday.
Jim Furyk kept his pairings exactly the same as Friday's fourball session in the hope of them reaching the same levels.
It was not to be for Team USA as they struggled all morning and eventually lost the session 3-1, meaning they went into the foursomes session 8-4 down.
The afternoon pairings were unsurprisingly left the same by Thomas Bjorn but Team USA captain, Jim Furyk, also unsurprisingly made some changes, leaving Phil Mickelson and Rickie Fowler out of the teams.
After a tough morning the USA started very well and were on top for the majority of the games. However, two late crucial putts from Henrik Stenson meant that the USA could only get a draw from the afternoon session.
Thomas Bjorn will be extremely pleased with his team's fight and grit that they showed this afternoon and with Team Europe only requiring four and a half points to regain the Ryder Cup tomorrow, he will be confident that his players can complete the job.
The score going into the final day is 10-6.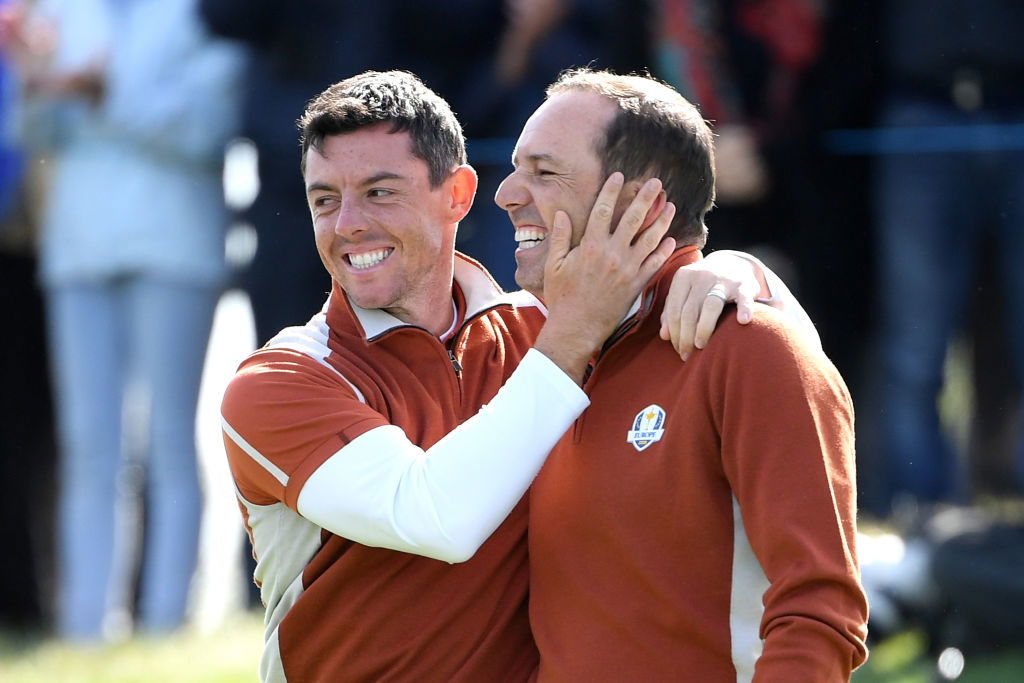 Four Balls Match One: (2&1) Sergio Garcia/Rory McIlroy - Tony Finau/Brooks Koepka
After two halves to begin the round, a birdie on hole three from Rory McIlroy followed by a birdie on the next from Sergio Garcia gave the Europeans a 2UP lead after four holes.
From there it looked one way traffic as the pair extended the lead to 4UP after eight holes thanks to birdies on holes six and eight.
A birdie four on the par-five ninth from Brooks Koepka gave the Americans a glimmer of hope but Garcia's birdie two on the 11th regained their 4UP lead.
Team USA then began their charge with three consecutive winning holes meaning the lead was reduced to just 1UP on the 17th tee.
The late fightback was eventually over as Garcia sunk a vital 15-foot putt for birdie and Koepka missed a similar opportunity meaning the Europeans completed a 2&1 victory.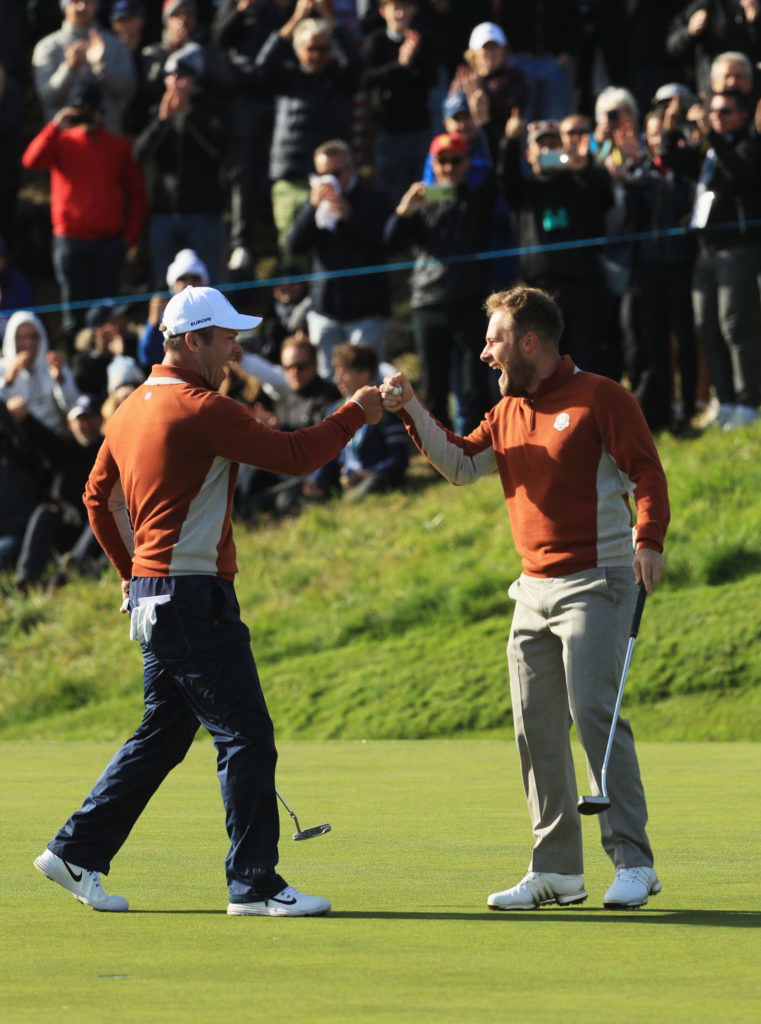 Four Balls Match Two:(3&2) Paul Casey/Tyrell Hatton - Dustin Johnson/Rickie Fowler
There were a lot of doubts over the two Englishman prior to the session but they proved the doubters wrong with a solid 3&2 victory.
Paul Casey got the pair off to flyer with a birdie three on the first hole but Team USA immediately fought back as Rickie Fowler birdied the par-three second.
It seemed like that the European partnership was being spearheaded by one man as Paul Casey birdied holes four and six to give them a 2UP lead.
Tyrell Hatton then wanted some of the action as he rolled in a putt for a birdie two on hole eight.
It looked like one way traffic for the Americans but a birdie two on the 11th hole gave them a fighting chance.
However, birdie for Paul Casey on hole 14 and two halves on the next two sealed an important point for Europe.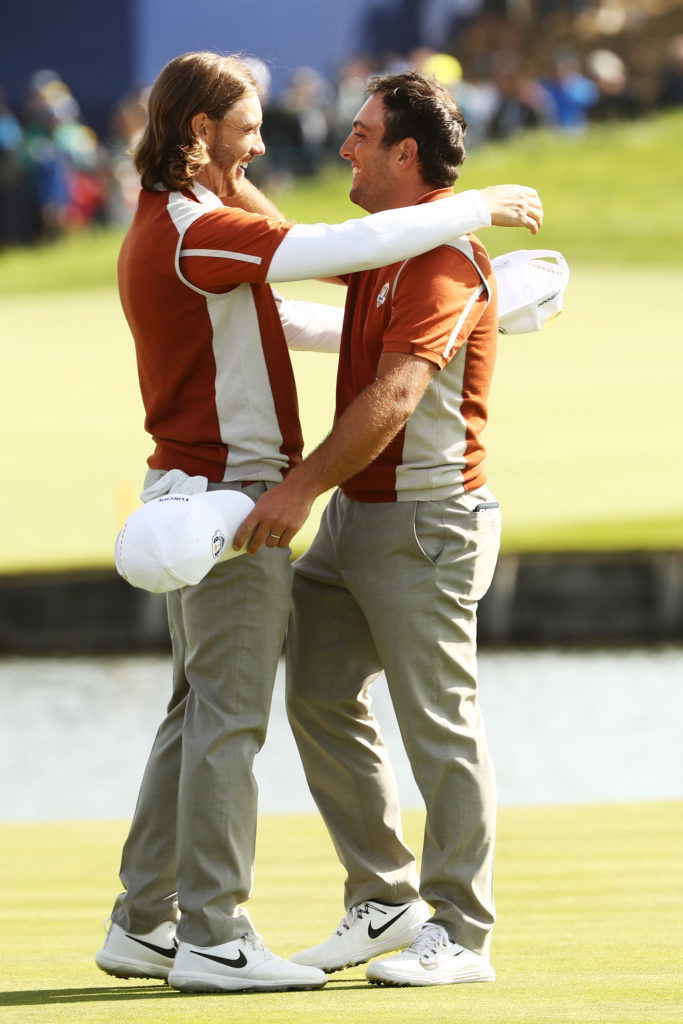 Four Balls Match Three: (4&3) Francesco Molinari/Tommy Fleetwood - Tiger Woods/Patrick Reed
Tiger Woods and Patrick Reed will be glad to see the back of this dynamic European duo as they dominated an error-prone American pair.
Patrick Reed had a day to forget as he found the unforgiving rough and water all round.
The Europeans got off to a great start flying to a 2UP lead after three holes.
Tiger Woods gave Jim Furyk some hope with birdie threes on holes seven and ten, subsequently meaning the game was back level.
However, the tie didn't last long as Francesco Molinari birdied three on the bounce giving Europe a 3UP lead.
The match was over when Tommy Fleetwood won the 15th hole and completed a 4&3 victory.
The pair continued their excellent form as a partnership and their 100% winning record goes on.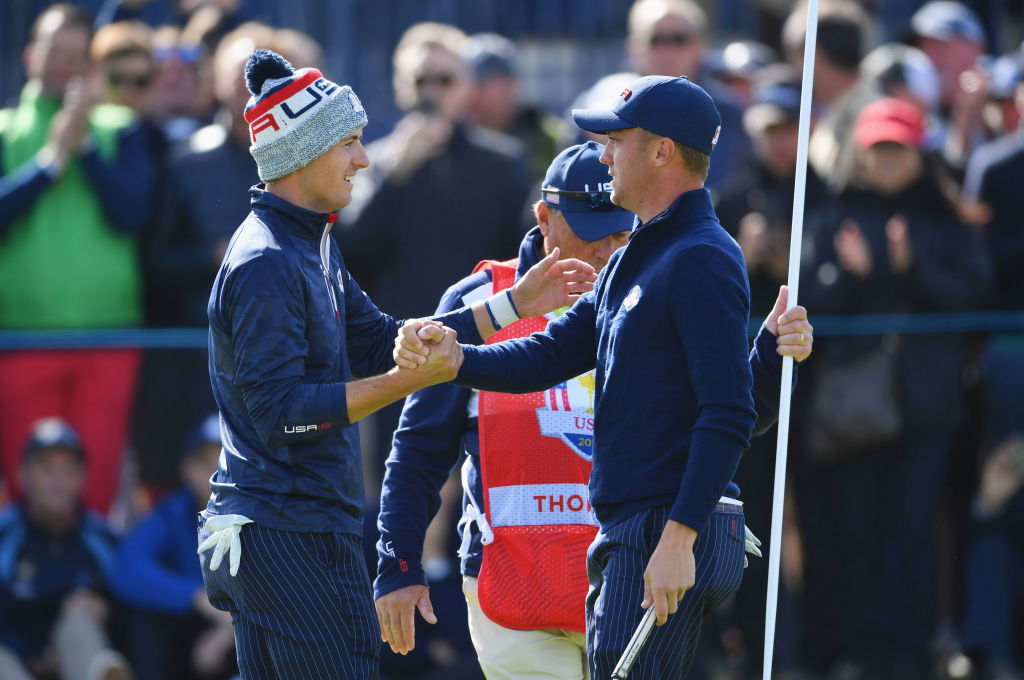 Four Balls Match Four: Ian Poulter/Jon Rahm - Justin Thomas/Jordan Spieth (2&1)
This American partnership is without a doubt the best partnership Jim Furyk has due to their relationship together and obviously their world-class ability.
It was honours even after nine holes as both pairs won two holes each to leave the game at AS.
It wasn't until the 13th tee where Team USA had a slight lead in front due to a birdie two for Jordan Spieth on hole 11 and a birdie three for Justin Thomas on hole 12.
Jon Rahm immediately fought back with a birdie on the 13th hole thanks due to a tidy approach shot.
Jordan Spieth gave the USA a point as Justin Thomas birdied hole 17 to seal a 2&1 victory.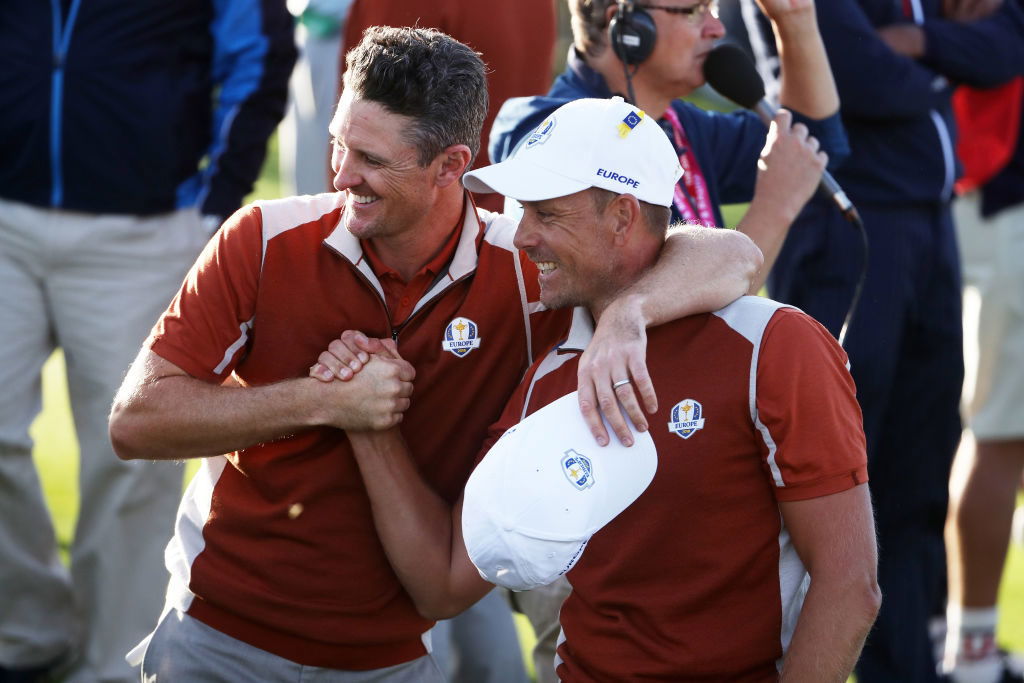 Foursomes Match One: (2&1) Henrik Stenson/Justin Rose - Dustin Johnson/Brooks Koepka
An interesting game on paper containing three of the longest hitters in the world proved to be very tight as expected.
An opening birdie for USA gave them the best of starts, leading 1UP after one hole.
The game was levelled on the fourth hole as the Europeans made a birdie three.
There was a breakthrough for Henrik Stenson and Justin Rose as they finally took the lead on the eighth hole, capitalising on some USA errors and making a par three.
They then doubled their lead two holes later with another par, leaving them 2UP.
Team USA would half the deficit with a birdie three on the 12th hole but Team Europe would fight back to win the next hole, also with a birdie three.
Brooks Koepka and Dustin Johnson would give themselves a bit of hope winning the 15th hole with a birdie three but the next two holes would be where Team Europe would show their class.
Two incredibly vital pressure clutch putts from Henrik Stenson on holes 16 and 17 would prove deadly for the USA and Europe would complete a 2&1 victory.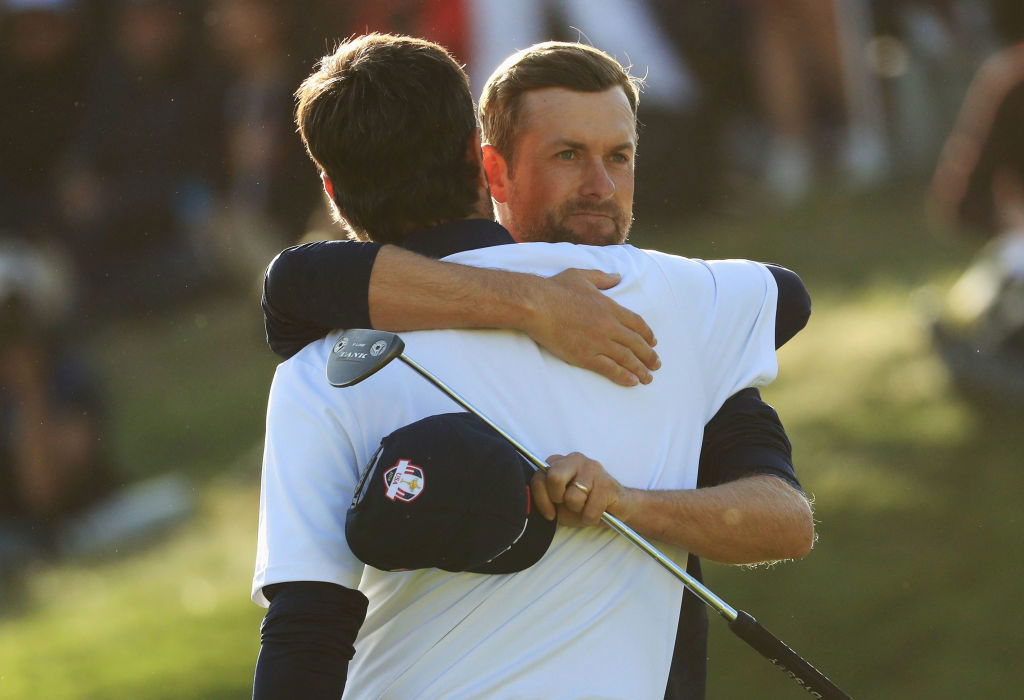 Foursomes Match Two: Sergio Garcia/Alex Noren - Bubba Watson/Webb Simpson (3&2)
After yesterday afternoon's display it was a no brainer for Thomas Bjorn to pair these two together but the European made too many errors and they proved costly as they fell to a 3&2 defeat.
The Americans had a great start as they birdied the first hole and somehow it remained at 1UP on the second as both teams managed to make a triple bogey.
Team USA were to double their lead on hole four with the birdie three but this was quickly followed by a European par on the next, meaning the lead was just 1UP.
The errors then become more prevalent and more costly for the Europeans as they were now 4DN after just eight holes.
The pair showed captain Thomas Bjorn some promise when they won the 10th hole but couldn't kick on from there and a USA eagle on hole 14 would further dampen their spirits.
Despite winning the 15th hole, Sergio Garcia would suffer his first loss of this Ryder Cup and the wait to become the all-time European points scorer goes on.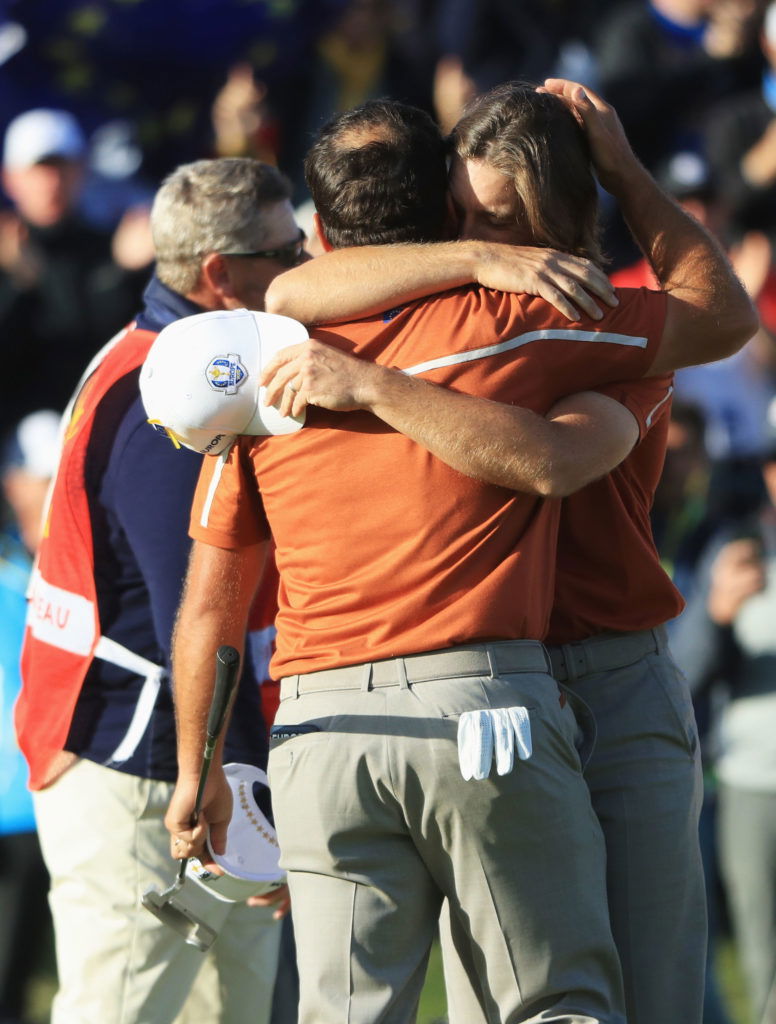 Foursomes Match Three: (5&4) Francesco Molinari/Tommy Fleetwood - Tiger Woods/Bryson DeChambeau
These two came into this match with extremely good form and were looking to make European history by becoming the first pair ever to win their first four games together.
The duo made a routine start by their current standards by birdieing the first hole and going 1UP.
The momentum never stopped and the Europeans led 5UP after nine holes.
Tiger Woods and Bryson DeChambeau were sloppy all day but two birdies on holes 10 and 11 after some neat approach shots were much needed, meaning the score was now just 3UP.
The Europeans, however, would once again show their resilience on the 12th hole and make some tough putts look easy to get their lead back to 4UP.
A final birdie for Team Europe on the 14th hole would mean that they successfully made European history and got a massive point on the board for Thomas Bjorn & co.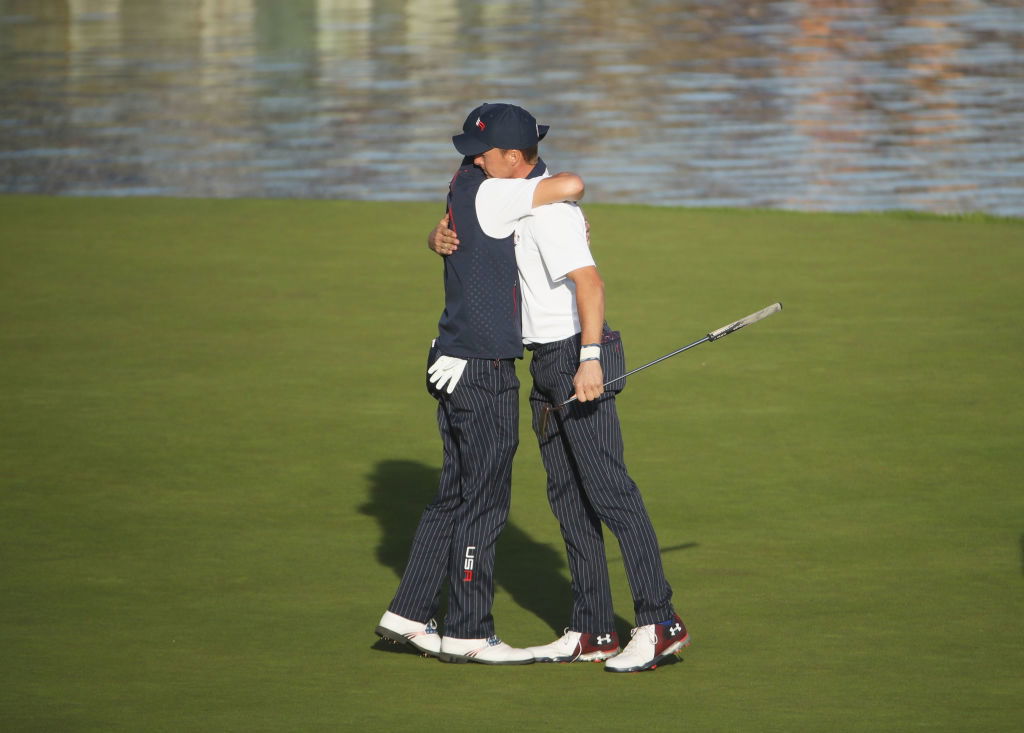 Foursomes Match Four: Ian Poulter/Rory McIlroy - Justin Thomas/Jordan Spieth (4&3)
Ian Poulter and Rory McIlroy were tremendous in yesterday's foursome session but they came up against a solid pairing in Justin Thomas and Jordan Spieth.
The two Brits made the perfect start winning the first two holes and taking an early 2UP lead.
However, these would turn out to be the only holes they would go on to win as Team USA won three holes on the bounce from holes 4-6 and then another on the eighth, leaving them 2UP after nine.
A birdie two on hole 11 followed by another birdie on the 13th hole gave them a comfortable lead and the Europeans weren't able to fight back as Jordan Spieth returned to his putting best.
---