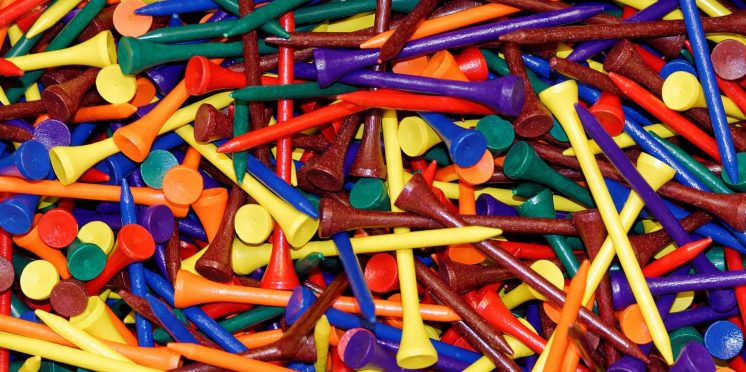 Top 21 Golf Tees Of 2021 [Buyer's Guide]
Golf balls, golf glove, golf towel, divot repair tool, ball marker, head covers, ball retriever, umbrella, and scrub brush. With so many golf accessories available, it's easy for golfers to overlook the golf tees they use. Who cares what golf tees you leverage on the course? Grab some free ones at the pro shop, or maybe you can find a used one on the tee box. If this is your approach, you may be missing an opportunity to improve your game and the golf course conditions.
You may be surprised to hear that the golf tee you use matters, potentially making the difference between a stunning golf victory or a sad loss. Did you know that some are engineered to help you generate more speed with your driver? More importantly, some golf tees have been designed to biodegrade quicker and help the soil on your favorite course.
Do you use your golf tee correctly? The height of your tee can directly impact how solid you strike the ball and how far it travels. Do you use a golf tee on Par 3s or just drop the ball on the ground? We can help. For your driver, tee you ball high and let it fly. When you're hitting an iron or 3-wood use a tee, make sure your ball is sitting just above the grass on the tee box.
Do we have your attention yet? Is this the first time you have considered the golf tees you use? Don't worry, we got you.
Types of Golf Tees
Golf tees come in varying lengths, colors, and materials. The primary options you'll find when you start shopping are wood, bamboo, rubber, and plastic.
The first golfers in Scotland would use a small amount of sand to "tee their ball up." Many of the older courses placed a small box of sand next to the teeing areas to help players build their tee for each drive. The first golf tee as we know it today was invented in 1899. For many years, all golf tees were made from wood, but more recently the materials have become more diverse.
Wooden Golf Tees
For 75+ years all golf tees were made from wood. Newer versions are made from hardwoods to help them last longer, but they frequently break at impact. If you play 18 holes of golf, you can easily break 5-10 tees. One of the big benefits of wooden golf tees is that they're biodegradable, and you can also find them in just about any color.
Bamboo Golf Tees
The bamboo golf tees are the "better mousetrap" of the wooden ones. They are biodegradable and can be produced in every color, but tend to last longer than an option made from wood. If you are looking for a classic golf tee, but want it to last longer, give bamboo a try!
Rubber Golf Tees
As you will see on our list of golf tees below, many golf manufacturers have started to get creative with their golf tee design. They use rubber as a way to make unique shapes that reduce friction and help you get more ball speed off the face of your driver. Rubber golf tees are hard to break, so you can use one for multiple rounds. The downside to rubber is they are much more expensive per tee and are not as friendly to the environment.
Plastic Golf Tees
The best way to describe a plastic golf tee is that they are a combination of wooden and rubber. They are typically classic in shape/design and are harder to break than a golf tee made from wood. They do take longer to biodegrade than wood and can be hard to get in the ground if you're playing on a firm golf course.
There are pros and cons for each type of tee. It mostly comes down to personal preference. Is that enough background? Let's talk about our favorite golf tees of 2021.
Top 21 Golf Tees Of 2021
1. Sunday Golf Bamboo Golf Tees
If you're looking for one of the best golf tees, these Bamboo golf tees from Sunday Golf are a great pick, being both well-constructed and beautifully designed. They are 2 ¾" in length to help you bomb a drive down the fairway. Plus, the bamboo material is eco-friendly. You can purchase a package of 100 golf tees for $9.99.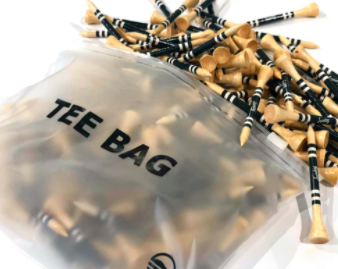 2. Pride Professional Tee System
Pride Professional Tee System Performance 2.75" Golf Tees are designed to help you get the most out of your drives. Made from hard wood with a 4-prong construction to reduce friction and increase speed. A package of 100 golf tees will cost you $7.99.
3. GoSports 3.25″ XL Premium Wooden Golf Tees
Made from sustainable hardwood, the GoSports 3.25" golf tees are available in several different vibrant colors. You can select from black, navy, green, natural, orange, pink, red, and white. The "Player pack" of golf tees will cost you $11.99 and includes a combination of sizes (175 driver tees and 25 hybrid/iron tees).
4. Zero Friction Victory 5-Prong Golf Tees
The Zero Friction Victory 5-prong golf tee is the first plastic tee to make our list. They are 2.75" in length and can be purchased in blue, green, white or purple. The prong design is used to reduce friction and help you hit the ball further. Forty golf tees will cost you about $11.
5. Wedge Guys PGA Approved Professional Bamboo Golf Tees 2-3/4 Inch
This package of golf tees is perfect if you want to make a bulk buy and don't really care about style. For $26.99, you can purchase a package of 1,000 durable and biodegradable golf tees. They have a natural wood look and are USGA conforming.
6. Maxfli Performance Series Low Resistance 3.25″ & 1.5″ White Golf Tees
This is a combination package of plastic golf tees. For $10.99 you'll get 40 "driver" tees and 10 "par 3 tees." They have a classic design, white with black stripes. The Maxfli Performance Series have a 4-prong design to help you reduce friction and increase distance.
7. Pride PTS Evolution 3 1/4" White Golf Tees
The Pride PTS Evolution 3 ¼" golf tees are aerodynamically designed for longer drives. They are made from plastic and come in white with blue stripes. For $7.99 you can purchase a package of 30 tees.
8. Martini Step Up 3 1/4" Assorted Golf Tees
The Martini Step Up 3 ¼" assorted golf tee package is a bit different from the previous items on our list. They are made from a blend of polymer and resin and have oversized cup heads. They are very sturdy and are designed to be used for many rounds. For $6.99 you get 5 golf tees in a variety of colors (white, orange, yellow, pink, blue).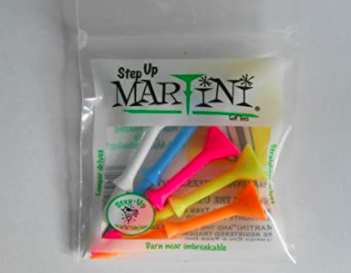 9. YATTA GOLF Telos Premium Golf Tees – Adjustable Golf Tees
YATTA Golf has a unique offering in the golf tee market. To ensure you consistently tee your ball up at the same height, they have an adjustable ring that you can change from hole to hole. They are virtually indestructible, so one set of 3 tees should last you the entire golf season. You'll pay $10 for a package of 3 adjustable golf tees.
10. Champkey BC Plus 3-1/4″ Golf Tees
Made of a proprietary polymer resin blend that is much stronger than other plastic tees, the Champkey BC offers you a 50 pack of varying colors (yellow, green, red, blue, white). They have a large cup-shaped head and will cost you $12.99 per package.
11. Callaway Par-Tee High Performance Golf Tee
Callaway is one of the largest brands in golf and their Par-Tee package of tees is the perfect gift for the golfer in your life. They are virtually unbreakable, so one of their tees can last you for months. For $9.99, you'll receive 4 "driver" golf tees and 2 "par 3" golf tees. You'll receive a mix of red, black, blue, and green golf tees.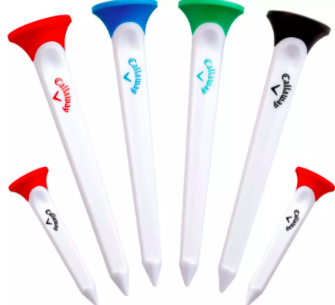 12. Zivisk Wooden Golf Tees
Zivisk offers you a simple, yet beautiful hardwood golf tee. You can choose from 4 different sizes (1 ½", 2 1/8", 2 ¾", 3 ¼") and seven different colors (black, green, pink, white, natural, natural & blue, white & yellow, white & black). Depending on the size you select, they'll cost you $5.99 – $9.99 for 100 golf tees.
13. Amy Sport Golf Tees Plastic 3 1/4-inch Big Cup
As you can probably guess from the name, these Amy Sport Golf tees have an oversized head. They're made from plastic, and you can select from black, blue, green, orange, red, and white. Can't decide? Amy Sport Golf also offers a multi-color package. Fifty golf tees will cost you $11.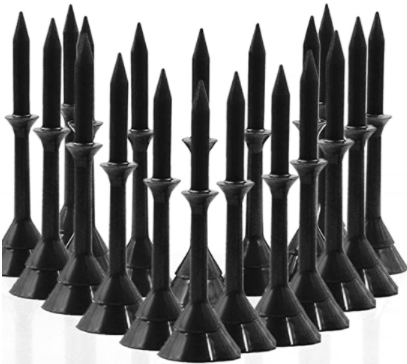 14. Green Keepers 4 Yards More Golf Tee
This is another example of a durable golf tee that is designed to be used 100+ times before it's damaged. The head of the Green Keepers has flexible prongs to reduce friction and give you more yardage with your driver. A package of 4 will cost you $11.
15. Crestgolf Professional 2 1/8″ Deluxe Wood Golf Tees
Crestgolf decided to keep it simple when designing these wooden golf tees. Nothing fancy, just a high-quality product. You receive 100 golf tees for $8 and can select from azure, blue, green, pink, purple, red, white, yellow, or multi-color.
16. Brush T Pack of 3 Oversized (2.4″) Golf Tees
The head of this golf tee is made with bristles that allow you to hit the ball with less restriction. They're designed to last many rounds, so you want to be careful not to lose them! A 3-pack of Brush T golf tees will cost you $6.95.
17. Champkey SDP Hybrid Plastic Golf Tees
The second Champkey product to make our list has been built for durability. These plastic golf tees are very hard to break. You can choose from 2 ¾" and 3 ¼" in length depending on how high you like to tee up your driver. Color choices include blue, white, or mixed. A package of 120 golf tees will cost you $9.99.
18. 4 Yards More Golf Tee
The 4 Yards More Golf Tees use a brush design to help you gain a few yards with your driver. They help reduce friction and spin on your golf ball. A 4-pack will cost you $7. They're built to last for 100+ shots.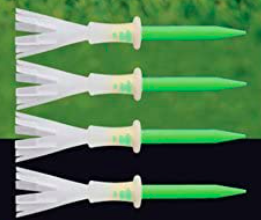 19. FINGER TEN Golf Tees Wood
If you enjoy using a classic-style wooden golf tee, you may want to consider this option from Finger Ten Golf. These 3 ¼" golf tees are made from sturdy hardwood and are available in blue, red, white, natural, or mixed. You'll receive 500 golf tees for $21.
20. Champ Zarma FLYtee My Hite 3-1/4″ & 1-3/4″ Tees
The Champ Zarma Flytee are 6-prong, plastic golf tees. They're white with either red, blue, or black stripes. The stripes are designed to help you tee your ball at the same height for each shot. For $11 you'll get 30 2 ¾" tees and 10 1 ¾" tees.
21. THIODOON Golf Tees Professional Natural Wood Golf Tees
The final golf tees to make our list are made by THIODOON Golf and are a great example of a simple, yet effective wooden golf tee. For $6.99 you'll receive a package of 100 tees of various colors including yellow, blue, pink, white, and red. The shallow cup design of the head helps the ball launch into the air and fly further.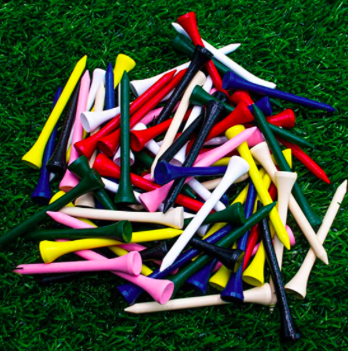 Buy The Best Golf Tee For You
The great thing about shopping for golf tees is that you aren't making a significant investment, so it won't hurt your wallet to try different brands and models. Try different materials, different designs, and different lengths. Which one performs the best for you? Which one gives you confidence standing on the tee box? Or just pick your favorite color!
We're partial to bamboo tees simply because they biodegrade quickly and cause less damage to mowing equipment. Give them a try. Play well and launch some drives down the fairway!
---