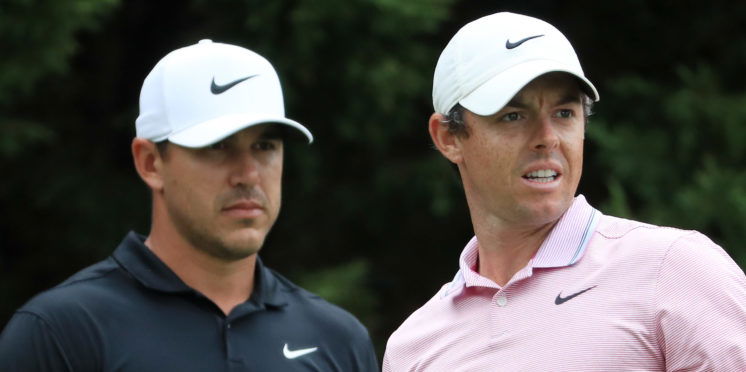 How next year's PGA Tour season could be the most entertaining ever
This past weekend saw yet another fantastic conclusion to the FedEx cup finals at Eastlake. Although some would say this year's tour championship lacked the dramatic flair of the previous year (in which Tiger Woods marched down the 18th fairway on Sunday, an army of fans trailing in his wake), it was entertaining none the less.
Rory McIlroy put on a clinic off the tee, staying true to his mind-numbing 314-yard average driving distance this season on tour.
Explosive power combined with a hot putter paid off for McIlroy… big time.
How much did Rory bank for his stellar performance?
Only a "modest" $15,000,000.
So, with the biggest prize in golf awarded to a worthy recipient, now it is time to look ahead to the future.
From Tiger breaking his major slump at Augusta, to Koepka capturing his second consecutive PGA Player of The Year Award, to McIlroy re-surging back into the spotlight, 2019 has been a year filled with rich story lines.
But could next season be even better?
Here are three potential story lines that make the case for 2020 to be the best PGA Tour season to date:
1.The battle begins
After watching the 2018/19 PGA Tour season, it is clear that two players have a hunger for victory that is unmatched by their piers – Brooks Koepka and Rory McIlroy.
This sentiment was echoed by golf channel analyst, Brandel Chamblee, when referring to the play we saw at the tour championship last week:
We have the makings of a rivalry here, at least with Brooks and Rory.
Brooks Koepka is a competitive man. There is no doubt in my mind that he will be firing back with all he's got in order to get back at McIlroy in the upcoming season.
That said, McIlroy is no pushover, and he will do whatever he can to stop this from happening.
It is too early to tell who will be able to get the upper hand, but one thing is for certain – the imminent battle will be extremely entertaining.
2. Tiger remains on the prowl
Woods has been subject to injuries and personal problems that would decimate the career of any well-established athlete. But the term "career ending" has never seemed to apply to Tiger Woods. Frankly, I don't even think he understands what those two words said in sequence mean.
He won the 2008 US open with a "career ending" leg injury.
He displayed no ill effects when he captured his 80th PGA Tour win at East lake in 2018, just 17 months removed from a "career ending" spinal fusion surgery.
The point is, you can never count this guy out. He keeps coming back, and I see no reason why the 2019/20 season will be any different.
In hot pursuit of Jack Nicholas's record of 18 major championship victories (he has 15), he has some unfinished business to take care of.
He recently underwent a minor arthroscopic surgery on his left knee and says he hopes to resume practicing within the next few weeks.
I'm betting he will bounce back from this one the same way as all the other surgeries – with that vintage Tiger Woods steely glare, guns blazing, and ready to compete.
3. The Emergence of the golf personality.
In the past, golfers have typically displayed a subdued personality. Smile, wave, be respectful, and don't "show your true colors." Don't get me wrong – there were exceptions, like John Daly – but for the most part, this is how it was.
However, this is quickly changing.
With the emergence of social media, fans now have more access than ever before to the daily lives of their favorite players.
And some of them are absolutely hilarious.
This season saw one of the most widely recognized golfers of all time, Phil Mickelson, take his social media presence to a new level. Whether it be setting the record for most thumbs up in one day, sharing his calf workout routine with the masses, or explaining how he "hits bombs," he has expanded his presence across several social media platforms.
Look for players in the coming season to follow Phil's lead and begin posting content with true entertainment value, as opposed to the generic posts that have been common among golfers in the past.
Will the 2019/20 PGA Tour Season be the most entertaining to date?
Truth is, no one knows. But if the story lines mentioned in this post hold true, it is safe to assume that the upcoming season will deliver a high entertainment value and even higher T.V ratings.
With talent from the likes of Rory McIlroy, Brooks Koepka, Tiger Woods, and even more superstars, you just never know what could happen.
We'll just have to wait and see!
---